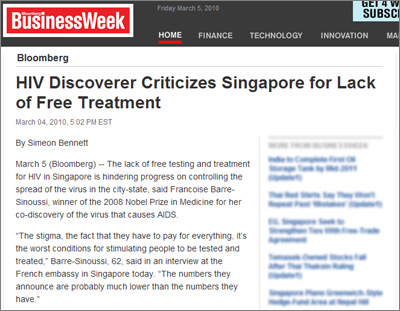 Bloomberg BusinessWeek reported yesterday that Francoise Barre-Sinoussi, winner of the 2008 Nobel Prize in Medicine for her co-discovery of the virus that causes AIDS, criticised Singapore for the lack of free treatment of HIV, saying this added to the stigma and burden of being HIV positive, and very likely drives the disease further underground.
She compared Singapore to her home country of France and developing countries where HIV treatment is free, and said the situation in Singapore is "very difficult to accept". "The situation is even worse than in developing countries not far from here. In Cambodia, everything is free."
In Singapore, the cost of HIV treatment is high because generic versions of commonly prescribed anti-retrovirals are not available. And the reason generics are not imported here is because of TRIPS, an agreement to protect and enforce intellectual property rights, in particular those of the largest pharmaceutical companies, which in turn are one of the largest contributors to Singapore's economy by industry. According to the Biomedical Sciences Factsheet 2009 published by the Singapore Economic Development Board, the Singapore government has invested in more than S$5 billion (US$3.5 billion) in building up the industry and in turn, the biomedical sciences industry in 2008 contributed S$19 billion (US$12.7 billion) or 7.6% of Singapore's total manufacturing output. So why provoke the ire of Big Pharma when we've already done so much to woo them here? Think of how much revenue they generate for Singapore!
All would have been palatable if Singapore actually used some of that revenue generated by Big Pharma for treatment and care of our HIV patients. Instead, none of the medications used in first and second line therapy of HIV are on the "General Sales List" - i.e. the list of medications that is subsidised by the government. So patients now have the double whammy of having to pay full price, and for the branded originals.
It is common practice here for patients to see their doctors at the Communicable Disease Centre at Tan Tock Seng Hospital (CDC/TTSH), but are secretly, "unofficially", advised to get their medications from either Malaysia or Thailand. In fact, doctors regularly lament the limited arsenal they have in treating HIV patients here, resulting in treatment regimens that are sub-optimal, with little recourse should the first line therapy fail.
How ironic – as Singapore promotes itself as a medical tourism hub, at the same time it's sending patients to its neighbours to get affordable medication. We either cannot, or don't want to take care of our own.
State of the HAART
Since the late nineties when "cocktail" therapy, now known as HAART (Highly Active Anti-Retroviral Therapy) became available, a plethora of HIV therapeutics have entered the market. Many are now fairly well tolerated, with regimens simplified to a few pills once or twice a day, compared to virtual handfuls every few hours when the first anti-retrovirals made their debut. Many of these new life-saving, life-changing treatments are not available in Singapore as they have not been registered (see point no. 4 below).
Research now shows that when patients receive appropriate and timely medical intervention, and are able to suppress their viral loads (the main objective of any treatment plan), most HIV patients can live out close to normal life expectancies. In fact, new treatment guidelines indicate that it's almost always better to start treatment earlier rather than wait till the immune system fails, and many are leaning towards starting treatment as soon as diagnosed, in order to halt the progression of HIV in the body.
Some mathematical modeling even suggests that treatment is a form of prevention, seeing that patients who have a low or undetectable viral load are effectively non-transmitters of HIV. Some research suggests that if everyone who tests positive can receive immediate treatment and adheres to it, it is possible to eradicate HIV in a matter of years.
What all this means is HIV/AIDS no longer spells "TERMINAL" as it did in the 80's and 90's. Yet, Singapore is effectively condemning HIV positive people here to such a fate without access to life-saving therapy. With costs going up to S$1500 (US$1,070) per month for medication alone (not including clinic visits and lab tests), this is out of reach of many Singaporeans.
Even the Ministry of Health's announcement in January this year that MediFund could be used for some HIV medications is of little consolation to most HIV patients – in order to activate MediFund, you have to be effectively indigent, or fall below the poverty line to qualify.
In order to get around the myriad of issues and maintain every party's "interests", a multi-pronged strategy needs to be considered.
1. Adding first line therapeutics to the GSL so that a majority of HIV patients can have subsidised treatment, even if they are the branded, more expensive versions.
2. Subsidising the cost of laboratory monitoring, which is significant. Yet close monitoring is an essential component of good clinical care.
3. Importing generic versions of selected drugs under a special exclusion criteria, to be administered solely through CDC/TTSH so that this is no longer done through underground "buyers clubs".
4. Expanding the selection of therapeutics available to clinicians so that they can practice at a level which is state of the art, not third-world standards. This has to be done by accelerating the drug registration process, and perhaps waiving the registration fees – the costs and time to register these drugs here are not worthwhile for distributors and pharma companies because Singapore is ultimately a small market.
In any analysis, the benefit of returning fully functional HIV positive people into contributing members of the economy far outweigh the costs. The solutions suggested above still fit within Singapore's way of doing things and don't really break any rules or challenge any sacred cows. They are simple, practical solutions which could save many lives.
Most importantly, and I believe this will be the crux of the matter: We need to treat HIV/AIDS just like any other disease. The administration needs to follow its own rhetoric. Only then can we have a rational response to an increasingly urgent need – the rising numbers of HIV patients for whom we need to care for.
Dr Stuart Koe is founder and CEO of Fridae. He holds a Doctor of Pharmacy from the University of Minnesota, specialising in HIV therapy and is currently a Board member of Hong Kong's Aids Concern (since 2006), a founding Trustee of Singapore's Action for AIDS Endowment Fund (since 2003), and a long time AIDS activist, having also served on AfA's Executive Committee for several terms (since 1998). Prior to founding Fridae in 2000, he worked at the Economic Development Board where he contributed to laying the groundwork which resulted in significant investments in the Life Sciences as a key pillar of the Singapore economy.