It really doesn't require much effort to go down to Pink Dot, does it?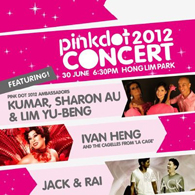 Come early on 30 June for a picnic and concert with a starry line-up of homegrown talent, including Ivan Heng and his Cagelles from "La Cage", Kumar, T'ang Quartet and more! Concert begins at 6.30pm
You've marked the date on your schedule, and selected your pink outfit. Catching the MRT down to Clarke Quay, you might bring some family members along, or have arranged to meet friends. You'll end up having a great time, come home and tag yourself on all those gorgeous photos the next day.
But for many people, it's not that easy.
Maybe they're not feeling very good about themselves. Maybe they have difficulties coming to terms with being gay, lesbian, bisexual, transgender or different.
Perhaps they're unwell. With a mental health condition or addiction problem, or even struggling with self-harming thoughts.
Or they're in hospital after a suicide attempt, or recovering from injuries inflicted by someone they love. Or still grieving a painful loss.
Some could be afraid to be seen at such a large public event, where they worry about being recognised. Their own experiences of being bullied by peers or persecuted by their religious community have taught them fear of those who hate them.
Others might have decided that they just want to blend into mainstream society, and dislike the sensitive issues of sexuality, gender orientation and same-sex love to be displayed in public.
And then there are those who have left Singapore because they've decided that here is a country that does not respect people who are different.
Had they still been in their darkest moments, each of the story contributors in I Will Survive probably would not have attended Pink Dot for the reasons above. Yet, time has passed since then, and being the resilient survivors that they all are, I look forward to seeing many of them at this year's event.
But for every person who, for whatever reason, is unable or unwilling to be at Hong Lim Park on Saturday, 30 June 2012, there will be the rest of us who can and will.
Let us all be there for those who can't or won't, and believe that someday, they too might join us.
Leow Yangfa is the editor of the I Will Survive website and the e-book. He's spent most of his adult life involved in social services, including a previous job in a large statutory organisation and volunteer work with an HIV/ AIDS group in Singapore, and a charity for the homeless in London. He currently works with a voluntary welfare organisation in Singapore.
Visit pinkdot.sg for the latest information about Pink Dot 2012.


WHAT: PINK DOT 2012
WHERE: Hong Lim Park
WHEN: Saturday, June 30, 2012
WHAT TO BRING: Pink lights!
WHAT TO WEAR: Of course, PINK!
TIME: Activities commence 5.30pm, Concert begins at 6.30pm, Dot is formed at 7.30pm, or when it is sufficiently dark
*Please note: According to the park's terms and conditions, only Singaporeans and Permanent Residents may participate at the events held at Hong Lim Park. However, foreigners are most welcome to watch and observe. For more info, please click here.