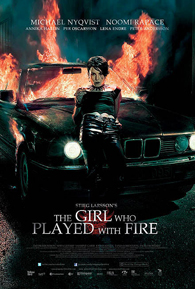 There is something rotten in the state of Sweden. It is the sense of something gone horribly wrong at the highest levels of society and the realisation that a depraved monster lurks behind the facade of every pillar of society, that fuels the success behind the Millennium trilogy and its film adaptations.
We've seen the premise work out to a shrill conclusion in the first instalment, The girl with the dragon tattoo. The sequel brings nothing new at first. Millennium journalist investigates a prostitution racket that (hardly surprisingly) involves the highest rungs of Swedish society and law enforcement – and a series of brutal murders that occur when his magazine is on the verge of publishing the tell-all. The surprise is how unexpectedly and quickly the conspiracy coils back to entangle Lisbeth, the bisexual punk hacker who stole the first movie of the trilogy.
Like in any trilogy, The girl who played with fire suffers from the middle film syndrome – you get the sense that the writers are merely setting you up for an explosive third film, rather than delivering a blow-out second punch. Frankly speaking, the film lacks the gripping, layered mystery of the first film. Given the atrocities and inhuman behaviour we've witnessed in the first film, nothing presented in its sequel is remotely shocking in comparison.
But if you take this instalment as a piece that further develops the complex character of Lisbeth, you would definitely find it worth your time. The charismatic Noomi Rapace single-handedly walks away with the film, portraying a very human and flawed anti-hero who exacts a harrowing form of justice. The performance she puts into her character literally sells the promise of a great conclusion to the film trilogy. And for that, I'm looking forward to October already.