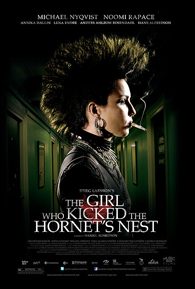 The girl who kicked the hornet's nest
is the last we'll ever see of its anti-hero Lisbeth Salander (Noomi Rapace) for a long time – at least until the fourth book of the Millennium Trilogy is completed by the late Stieg Larsson's surviving partner. The bisexual goth computer hacker and rape survivor is a one-of-a-kind character – an avenging angel who, over the course of three novels and their film adaptations, exacts pain and punishment on authority figures who have misused and abused their power.
The idea that there is "something rotten in the state" that must be excavated and exposed to the eyes of the public is a distinctive thread in Scandinavian literature and film, and Larsson's trilogy has capitalised on this. One might argue that a story where every other authority figure in society is either venal, corrupt or criminal will end up feeling shrill and tedious. Larsson proves that the same story can be exhilarating and gripping if it focuses on a victim of this society who ends up punishing it.
What can the film adaptations of Larsson's novels tell us? It turns out that what can be accomplished in print may find difficulties translating to screen. The first film, The girl with the dragon tattoo, functioned as a gorgeous murder mystery and thriller with a society gone rotten as its backdrop. The middle film, The girl who played with fire, had to solve the problem of switching gears to the conspiracy theory genre while telling an engaging story that will also serve as a bridge to the showdown between Salander and the shadowy forces of the state.
Fortunately, the final instalment of the trilogy has an easy job. The director concentrates his energies towards making a gripping political thriller, an almost American style conspiracy theory picture populated by arrogant old men dictating the fates of unwitting citizens, government agencies that even top civil servants and the secret police don't know about, and a show trial where the state, its bureaucracy, and its procedures make a joke out of natural justice.
For a trilogy that has been working towards this very end since its inception, The girl who kicked the hornet's nest delivers everything that was promised. All in all, it is a satisfying conclusion and a story well told.