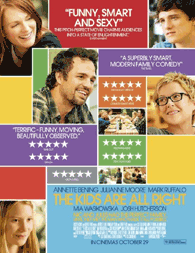 I suppose that to some people, The Kids Are All Right is in fact a disturbing, socially challenging film. If you told them that somewhere out there, homosexual people can in fact lead very conventional lifestyles and form stable family units with happily adjusted children, they'd think you're describing a premise for a science fiction horror film. It's as good as describing to them the plot for an episode of Fringe that deals parallel universes and disgusting body horror.
Sill, that's the premise of The kids are all right, this year's Sundance favourite and Oscar contender. In keeping with the Sundance tradition, the film is a family comedy about an average non-traditional family that might exist in San Francisco and other parts of California. This time round, mummy (Annette Bening) and mummy (Julian Moore) lead such conventionally successful lives that they're experiencing the homosexual version of middle age sex death. When their children decide to get in touch with the couple's sperm donor (or "donor dad", as he is charmingly called), all sorts of hijinks occur with this new shock to the family unit.
The charm of this film is it plays like a 1960s TV family sitcom. From middle age sex death, teenage relationships, feuding old couples to the seven year itch, The kids are all right go down the entire checklist in a good-natured manner, seemingly determined to bring on the chuckles whenever it can.
I suspect the loudest laughter will come from audiences who realise just how completely conventional (or subversive) this film is and how like other Sundance alum, it still manages to be a pro-family, family values film. It's sweet and charming in that way.