After releasing their debut LP, "The Scotch Tape," back in 2011, the group has been stirring up excitement and garnering loyal fans with their genre-mashing blend of pop, dance and hip hop by playing shows all over the country and launching their Timeflies Tuesdays.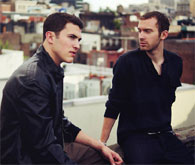 Timeflies
Timeflies Tuesdays is a clever and fun segment on their YouTube channel that features the duo's weekly (and highly imaginative) take on a popular song. The group has bundled some of their best Timeflies Tuesday moments on their new mixtape "
Under The Influence
" that includes crafty remakes of tracks by Rihanna, Adele and The Wanted's 'Glad You Came."
Timeflies is the duo of producer Rez and vocalist Cal Shapiro who first started working together while attending college at at Tufts University right outside of Boston. "Rex started a six piece funk band," Shapiro explains in an interview. "He heard me freestyling at a party and was like, "Yo, come sing with my funk band. So I came down, we did a rehearsal, and next thing we know we were playing gigs and won battle of the bands and were opening for Asher Roth and Ludacris."
An early inspiration of their popular Timeflies Tuesday was their play with beats, samples and surprise rhymes during college parties. "Rez would write some stuff for me," Call explains. "We recorded some 'joke tracks' and then when he was DJ'ing parties, he would slip them in in the middle of really hot songs, then we would see if the room was like 'What the f*ck?' or if they were dancing."
The group adds that sampling other people's songs has been a good way to kickstart their creativity. "You find something and work on it and when you make it better than the original then you're like oh thats phat," Rez concludes. But their play with other people's tracks has also inspired many of their own ideas and melodies for new original music. Before heading on a national college tour this fall, the group has been in the studio recording new material with none other than Mike Posner. Stay tuned to hear more of that soon. In the meantime listen to Timeflies "Under The Influence" mixtape right here.