Australia
2013-05-27 - 2014-05-27
Minhang District
2013-06-01 - 2013-12-29
Australia
Team Sydney represents 30+clubs operating under our 'umbrella'.
2013-06-14 - 2013-11-30
Korea (South)
2013-08-30 - 2023-12-29
Korea (South)
2013-08-30 - 2023-12-29
Hong Kong
2013-09-18 - 2013-10-05
Hong Kong
2013-09-19
Check out the new Agenda - Fridae's essential guide to all things happening in YOUR city. Post events for free (log in required)!

Comments
To subscribe / unsubscribe
click here. (log in required)

News / Features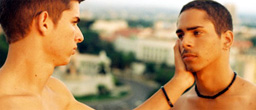 Entertainment
Hong Kong gay film festival features bisexual and "lesbian porn" programming for the first time

The HKLGFF will screen a total 54 films from around the world – exceeding any previous year's record – including five feature films and one short under the new bisexual category, one feature and four shorts under the lesbian porn category, and two French films to close: Stranger by the Lake, and Winner of this year's Palme d'Or at the Cannes film festival, Blue Is the Warmest Colour.


News
Gay South Korean film director marries his partner in public ceremony

Gay South Korean film director Kim Jho Gwang-soo and his partner Kim Seung-hwan symbolically married in public ceremony in central Seoul on Saturday although same-sex marriage is not legally recognised in Korea.


News
1,200 attend "wedding banquet" in Taipei to support same-sex marriage bill

Some 1,200 people joined a mock "wedding banquet" in Taipei on Saturday to drum up support for a same-sex marriage bill due to be sent to parliament soon.


News Around the World
The two faces of Thai tolerance

Thailand's Bangkok Post last week highlighted that while the country's tourism authorities are trying to market Thailand as a gay-friendly destination urging gay visitors to "Go Thai. Be free", local LGBT activists say the campaign disguises a darker reality that beneath the veneer of public tolerance, conservatism and discrimination remain rife.


Sex and Living
Young Indonesian lesbians struggle with the pressure to marry

Many lesbians in Indonesia feel the pressure to marry, and like many others in less accepting societies around the world, many consider marrying a gay man, but is it a way to solve their marriage problems? Kate Walton, who works for a national women's organisation in Jakarta, explores the issue.





Featured Profiles


Fridae Shop
What's hot this week!
M1 Magic Man Magazine vol.32 US$13