Australia
2013-05-27 - 2014-05-27
Minhang District
2013-06-01 - 2013-12-29
Australia
Team Sydney represents 30+clubs operating under our 'umbrella'.
2013-06-14 - 2013-11-30
Korea (South)
2013-08-30 - 2023-12-29
Korea (South)
2013-08-30 - 2023-12-29
Hong Kong
2013-09-18 - 2013-10-05
Hong Kong
2013-09-19
Malaysia
2013-09-21 - 2013-09-22
Minhang District
2013-09-28
Singapore
Women's Nite: Fast friends
2013-09-28
Check out the new Agenda - Fridae's essential guide to all things happening in YOUR city. Post events for free (log in required)!

Comments
To subscribe / unsubscribe
click here. (log in required)

News / Features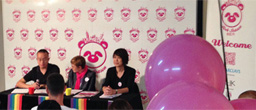 News
Pink Season to feature over 35 events including Mr Gay Hong Kong and Gay Day Asia @ Disney

With over 35 events planned, Hong Kong's Pink Season looks set to be Asia's largest LGBT cultural festival spanning over two months from September 12 to November 10, 2013.


Commentary
Why Delhi Pride's decision of having "no sponsors" is a good thing

As gay pride parades in Asia and around the world become increasingly mainstream and attract corporate sponsorship, community members often disagree on what sort of image the events should present to the public. Aditya Bondyopadhyay, a gay rights activist and member of the Delhi Pride Committee, says recent events in the US have affirmed his group's decision to not take on corporate sponsors.


News
Nepal gets its first LGBTI community centre

The LGBTI community in Kathmandu, the capital city of Nepal, now has its own community centre which was built with financial assistance from the Nepal government, Norwegian government, Danish Embassy, US Embassy, and contributions from community members from in and outside the country.


News Around the World
The two faces of Thai tolerance

Thailand's Bangkok Post last week highlighted that while the country's tourism authorities are trying to market Thailand as a gay-friendly destination urging gay visitors to "Go Thai. Be free", local LGBT activists say the campaign disguises a darker reality that beneath the veneer of public tolerance, conservatism and discrimination remain rife.


Lifestyle

This hotel is conveniently located in Wan Chai, formerly a prosperous fishing village and now one of Hong Kong's busiest business and entertainment neighbourhoods.




Featured Profiles


Fridae Shop
What's hot this week!
M1 Magic Man Magazine vol.32 US$13