Minhang District
2013-06-01 - 2013-12-29
Australia
Team Sydney represents 30+clubs operating under our 'umbrella'.
2013-06-14 - 2013-11-30
Korea (South)
2013-08-30 - 2023-12-29
Korea (South)
2013-08-30 - 2023-12-29
Hong Kong
2013-09-18 - 2013-10-05
Hong Kong
2013-09-19
Malaysia
2013-09-21 - 2013-09-22
Hong Kong
FREE - HOTTEST Guys, COOLEST Sport - Ice Skating/Hockey - Beginner Adults - Monday
2013-09-23
Singapore
2013-09-28
Seoul
2013-10-04 - 2023-12-29
Check out the new Agenda - Fridae's essential guide to all things happening in YOUR city. Post events for free (log in required)!

Comments
To subscribe / unsubscribe
click here. (log in required)

News / Features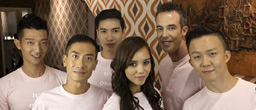 Entertainment
The search for Mr Gay Hong Kong 2013: Vote now

Meet the five Mr Gay Hong Hong finalists: Edward Chao, Tommy Leung, Anthony Pura, Ernest Kam and Michael Morrill. Vote for who you think should be crowned Mr Gay Hong Kong 2013 on 19 October!


Entertainment
Gay winners at the Emmys: Behind the Candelabra, Modern Family, Jim Parsons, Tim Gunn

Gay actor Jim Parsons won the Emmy for lead actor in a comedy series for his role in The Big Bang Theory for the third time while Modern Family's winning streak continued for its fourth year; Behind The Candelabra won three awards at the the 65th Primetime Emmy Awards on Sunday night.


News
Bangladesh retains anti-gay sex law against United Nations recommendations

Bangladesh rejects United Nations recommendation to decriminalise its anti-gay sex law at the UN Human Rights Council's Universal Periodic Review (UPR) in Geneva last Friday.


News
Watch: Italian lawmakers stage kiss-in for gay rights

Dozens of Italian lawmakers locked lips in support of a measure to prevent anti-LGBTQ discrimination during a parliamentary debate last week.


News
Civil unions bill to be tabled in Thai parliament

The Thai Ministry of Justice announced that it would work with the House of Representatives Committee on Laws, Justice and Human Rights to push draft legislation on civil unions for same-sex couples.


News
Singapore court rejects gay couple's application to have Queen's Counsel represent them in s377A case

A Singapore court has denied the application by a Singaporean gay couple to have a Queen's Counsel represent them in their appeal against the dismissal of their challenge to section 377A of the Penal Code which criminalises sex between men.


Commentary
Why Delhi Pride's decision of having "no sponsors" is a good thing

As gay pride parades in Asia and around the world become increasingly mainstream and attract corporate sponsorship, community members often disagree on what sort of image the events should present to the public. Aditya Bondyopadhyay, a gay rights activist and member of the Delhi Pride Committee, says recent events in the US have affirmed his group's decision to not take on corporate sponsors.


Lifestyle

This hotel is conveniently located in Wan Chai, formerly a prosperous fishing village and now one of Hong Kong's busiest business and entertainment neighbourhoods.




Featured Profiles


Fridae Shop
What's hot this week!
M1 Magic Man Magazine vol.32 US$13