Australia
2013-05-27 - 2014-05-27
Minhang District
2013-06-01 - 2013-12-29
Australia
Team Sydney represents 30+clubs operating under our 'umbrella'.
2013-06-14 - 2013-11-30
Korea (South)
2013-08-30 - 2023-12-29
Korea (South)
2013-08-30 - 2023-12-29
Hong Kong
2013-09-18 - 2013-10-05
Hong Kong
FREE - HOTTEST Guys, COOLEST Sport - Ice Skating/Hockey - Beginner Adults - Monday
2013-09-28 - 2013-09-29
Seoul
2013-10-04 - 2023-12-29
Seoul
2013-10-13
Check out the new Agenda - Fridae's essential guide to all things happening in YOUR city. Post events for free (log in required)!

Comments
To subscribe / unsubscribe
click here. (log in required)

News / Features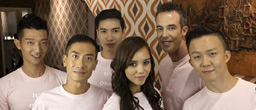 Entertainment
The search for Mr Gay Hong Kong 2013: Vote now

Meet the five Mr Gay Hong Hong finalists: Edward Chao, Tommy Leung, Anthony Pura, Ernest Kam and Michael Morrill. Vote for who you think should be crowned Mr Gay Hong Kong 2013 on 19 October!


News
Singapore High Court upholds anti-gay law in Tan Eng Hong's case

Singapore High court Justice Quentin Loh today upheld the law which criminalises sex between men.


News
UN holds first ministerial meeting on LGBT rights

U.S. Secretary of State John Kerry as well as ministers from Argentina, Brazil, Croatia, France, the Netherlands and Norway, and senior officials from Japan, New Zealand and the European Union were at the first ever ministerial-level meeting to protect the human rights of LGBT people around the world.


News
Vatican blocks Rome gallery from showing photo exhibit of gay couples kissing in churches

Despite Pope Francis's recent pronouncements that the Catholic church should stop focusing on gay issues, the Catholic Church has reportedly threatened legal action should an art gallery in Rome decide to go ahead with its exhibition of photographs showing same-sex couples sharing kisses in churches.


News
Italy pasta exec's anti-gay remarks spark boycott

Barilla, one of the best known pasta brands around the world, has found itself in hot water after its president said in an interview this week that the company wouldn't feature same-sex couples in his commercials because he prefers the "classic" family.


Lifestyle

Restaurant on the Sea, Teshima, Japan

Fukuoka-based architect Koichi Futatsumata and chef Daishi Yuen have set up a restaurant that not only visually complements the magnificent natural surroundings of Teshima island, but also highlights the local fare.




Featured Profiles


Fridae Shop
What's hot this week!
Beaux Magazine - Volume 1 US$19.99