Minhang District
2013-06-01 - 2013-12-29
Australia
Team Sydney represents 30+clubs operating under our 'umbrella'.
2013-06-14 - 2013-11-30
Korea (South)
2013-08-30 - 2023-12-29
Seoul
2013-10-13
Phuket
2013-10-18 - 2013-10-19
Hong Kong
2013-10-19 - 2013-10-20
Phuket
2013-10-19 - 2013-10-20
Phuket
2013-10-20 - 2013-10-21
Singapore
2013-10-24 - 2013-10-29
Shanghai
2013-10-25 - 2013-10-26
Check out the new Agenda - Fridae's essential guide to all things happening in YOUR city. Post events for free (log in required)!

Comments
To subscribe / unsubscribe
click here. (log in required)

News / Features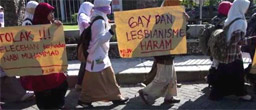 News
LGBT rights groups launch video to protest 'SOGIE' being excluded in ASEAN declarations

On October 14, a regional network of LGBT rights organisations launched a video in response to the exclusion of Sexual Orientation and Gender Identity/Expression (SOGIE) from the language of two recently adopted declarations protecting women and children from violence, and in the ASEAN Human Rights Declaration last year.


Sex and Living
A heartfelt letter from a Christian woman to her long-lost gay friend... 12 years late

"I'm so sorry to be so late in my understanding... Today, I'm an out of the closet Christian that supports homosexuality... I pray and hope you would somehow read about my apology letter to you and give me another chance as a friend," writes a Christian woman – originally from Singapore – to her long-lost gay friend whom she had rejected 12 years ago.


News
Singapore Court agrees to hear both s377A appeal cases together

The Court of Appeal has accepted Tan Eng Hong's application to have his and another parallel case filed by Gary Lim and Kenneth Chee, both of which challenge the constitutionality of Singapore's anti-gay sex law, to be heard together.


Commentary
Has the Hong Kong government hamstrung its new anti-discrimination body?

Not only does the body include two members who are firmly opposed to anti-discrimination legisation for LGBTs, much of its second meeting was dominated by Christian groups who told the panel that same-sex relationships are a sin and that they would be deprived of their right to discriminate should any anti-discrimination legislation be enacted. Nigel Collett reports.


Zone:

Choosing your sex helmet
Not all condoms are created equally, and preferences vary from person to person. If you haven't done much research, read on as our writer Nicholas Deroose conducted a casual poll among 30 of his gay friends and tested five of the most popular.




Featured Profiles


Fridae Shop
What's hot this week!
M1 Magic Man Magazine vol.32 US$13