Welcome to the Fridae newsletter. We've got all the latest news, events, reports, and interviews concering LGBT issues in Asia. Enjoy!
Comments
To subscribe / unsubscribe
click here. (log in required)

News / Features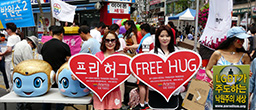 News
South Korea court rules gay pride parade can go ahead

South Korea's gay pride organizers have won a court battle against police ruling that blocked parade later this month


News
ASEAN Pride music festival to be held for LGBT rights

The second annual ASEAN Pride music festival will be held in Hanoi in June by the US Embassy and CAMA Vietnam


News
28,000 attend Pink Dot rally in Singapore

Seventh edition of the annual rally for inclusivity and diversity at Hong Lim park sees record number of participants.


News
Hong Kong legislator Raymond Chan files complaint with Equal Opportunities Commission

After an incident in which openly gay Chan was insulted on the city's MTR went viral, he has officially launched a complaint.


News
Seven same-sex Chinese couples wed in Hollywood

Six gay couples and one lesbian couple were married in West Hollywood, Los Angeles in a ceremony sponsored by Alibaba.


News
PM Lee says Singapore is not ready for same-sex marriage

In an interview last week, Singapore Prime Minister Lee Hsien Loong expressed that the country is not ready for same-sex marriage as society is still too conservative.


News
Thai university's dress code accommodates transgender students

Bangkok University releases new guidelines for uniforms that accommodates transgenders


Lifestyle