Welcome to the Fridae newsletter. We've got all the latest news, events, reports, and interviews concering LGBT issues in Asia. Enjoy!
Subscription
To subscribe / unsubscribe
click here. (log in required)

News / Features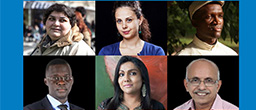 Lifestyle

George Takei explains why there were no gay characters on Star Trek

Famous actor and LGBT equality activist, George Takei, divulges more about diversity on Star Treck in latest Youtube clip



We've rounded up some of our favourite LGBT movies from around Asia. Think we've missed something out? Comment below.



Watch: New Video from Andrew Christian, welcome His Majesty!

Andrew Christian's boys worship their new King in "the Coronation", his new and hot video!



Bisexuality - overlooked and misunderstood

Stasia de Tilly for Time Out Hong Kong meets three bisexuals to shed light on the often overlooked and misunderstood 'B' in LGBTI. Read the original article here.



Watch: China's first gay sitcom 'Rainbow Family'

Millions watch comedy show set in Beijing and likened to US hit Will & Grace