Welcome to the Fridae newsletter. We've got all the latest news, events, reports, and interviews concerning LGBT issues in Asia. Enjoy!

Macau
2016-01-28
Singapore
2016-01-30
New Orleans
2016-02-04 - 2016-02-09
India
2016-02-06
Reykjavik
2016-02-11 - 2016-02-14
Check out the Agenda - Fridae's essential guide to all things happening in YOUR city. Post events for free (log in required)!


Subscription
To subscribe / unsubscribe
click here. (log in required)

News / Features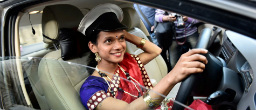 News
LGBTI taxi service launched in India

India's first taxi service run by LGBT was announced in Mumbai last week.


Entertainment
Go Princess Go, a web drama with LGBT content that went viral when it was released last year has been mysteriously pulled from online platform


News
LGBT activists rally as Hong Kong government delays discrimination legislation

Nine LGBT groups have released a strong joint statement criticising the government for a decision to delay legislation to protect sexual minorities from discrimination at a press conference last week


News
Japanese brands show support for LGBT

A growing number of corporations in the country are getting behind LGBT among growing social understanding.


News
Chinese state-run newspaper runs article on how to prevent homosexuality

Chinese LGBT activists have condemned an article in the Yangzhou Evening News by a local psychiatrist


News
Rise of HIV among adolescents in Asia-Pacific revealed in UN report

Despite global victories against HIV and AIDS, numbers in the region reveal a worrying trend among young people


Lifestyle