Welcome to the Fridae Newsletter. We've got all the latest news, events, reports, and interviews concerning LGBT issues in Asia. Enjoy!
Subscription
To subscribe / unsubscribe
click here. (log in required)

News / Features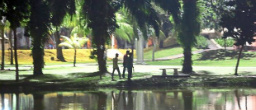 News
Malaysia newspaper reveals gay hook up spot

The StarMetro reveals Petaling Jaya city park as a location for 'immoral activities' between men


News
Panasonic to implement same-sex recognition

After the move by Japan's electronic maker to recognise same-sex marriages, the company is dealing with both praise and criticism at home and abroad


News
Hong Kong appoints new equality watchdog head

Alfred Chan Cheung-ming has been named the next head of the Equality Opportunities Commission (EOC)


News
Muslim police harass transgenders in Malaysia

A short documentary by the UK's Channel 4 shows Malaysia's religious police imposing Sharia law on the nation's Muslims


News
Chinese company fires man for being transgender

Transgender man in Guizhou province told he is "incompatible with the company's image"


Entertainment
Watch: Carol named best LGBT movie

Carol, a 2015 film depicting a lesbian love affair in 1950s New York starring Cate Blanchett has been named the best LGBT film ever by the British film institute


Lifestyle