Welcome to the Fridae Newsletter. We've got all the latest news, events, reports, and interviews concerning LGBT issues in Asia. Enjoy!
Subscription
To subscribe / unsubscribe
click here. (log in required)

News / Features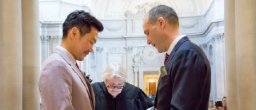 News
US Consul General in Shanghai marries partner

Hanscom Smith has married his Chinese male partner Lyu Yingzong (Eric Lu) in a ceremony in San Francisco, California


News
Kuala Lumpur's May Day rally attended by LGBT activists

A small group of activists representing the LGBT community waved a rainbow flag at a march for better pay and conditions in Malaysia's capital


News
Transgender Singaporean wins asylum in UK

The UK courts has ruled that a transgender woman facing military service as a man in Singapore can stay in the UK


News
Gay couple win custody battle in Thailand

An American and Spanish gay couple in Thailand have won a long court battle today to keep their child born of a surrogate in the country


News
Hong Kong in bid to host the Gay Games

Hong Kong was named as one of the 18 cities nominated to host the Gay Games 2022—making it the first Asian city to be shortlisted.




News
Editor of LGBT magazine murdered in Bangladesh

Police in Bangladesh said that Xulhaz Mannan was one of two people hacked to death in an attack at his apartment yesterday.


Lifestyle

Are you gay or are you straight? Are you bisexual or are you a lesbian? Are you femme or are you butch? Are you fat or are you thin?



Chinese director Zhang Wei to make the country's first transgender film

The director famous tackling issues of contentious issues in China including autism and low-paid workers has said that his next movie will focus on transgenderism



Watch: Andrew Christian's Handcuff Challenge and another video from the Black series

Two more videos from Andrew Christian!



Shanghai holds final of drag queen competition

Competition in China's second city saw 20 competitors battle it out at the Icon Club