Welcome to the Fridae Newsletter. We've got all the latest news, events, reports, and interviews concerning LGBT issues in Asia. Enjoy!
Comments
To subscribe / unsubscribe
click here. (log in required)

News / Features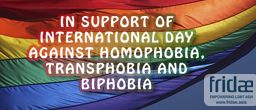 News
All against homophobia


News
Hong Kong Diocese declines offer of dialogue with LGBT activists

Attempts for discussion with the church by local LGBT group Rainbow Action are rebuffed, though the Diocese promises to consider LGBT matters


News
Hong Kong's equality watchdog chair expresses support for LGBT legislation

Equal Opportunities Commission (EOC) Chairperson Alfred Chan Cheung-ming attended an IDAHOT event in the city and said that consultation on legislation could begin in a years time


News
"Being LGBTI in China" report released

The results of a massive survey by the United Nations Development Programme (UNDP) on being LGBTI in China have been released in Beijing to mark International Day Against Homophobia and Transphobia (IDAHOT).


News
Transgender man in China loses unfair dismissal case

Chinese arbitration panel has rejected China's first legal case of transgender discrimination according to his lawyer


News
Lesbian couple in Beijing give birth to twins

Chinese women Rui Cai and Cleo Wu had twins last month after IVF treatment in the US


Lifestyle

Some highlights on Indonesia beautiful and friendly destination.



Watch: Andrew Christian plays "Rock, Paper and Scissors" Striptease Game

Do you know the game?



Hong Kong pop diva, Sandy Lam is back with her highly-anticipated 30 Anniversary "Sandy Lam PRANAVA World Tour"



Concert for same-sex marriage in Taipei

Taiwanese singers and musicians will take to the stage in Taipei in a bid to push Taiwan's same-sex marriage bill through legislature