It's hard to ignore the fact that Brian Gothong Tan, 24, and Vince Ong Choon Hoe, 22, are so damn cute. So what if Brian is an up-and-coming visual artist studying at Los Angeles' illustrious California Institute of the Arts on a prestigious Shell-NAC scholarship? (Check out his website at www.geocities.com/rebel2000brian for evidence of his abundant talent.) And so what if Vince is an undergraduate reading architecture at the venerable Architectural Association in London, with a scholarship from the institution?



Brian Gothong Tan and Vince Ong Choon Hoe (right) with snaps of their installation work at Sculpture Square on Middle Road.
Just gaze into their boyish faces, dimply smiles, manga hairstyles and coltish limbs - and all attempts to take them seriously melt away. Boy, are they dreamy!
But focus your attention for a second on the sprawling and ambitious installation work they have constructed at Sculpture Square - and you realise these twinks mean business.
Working tirelessly with their friends over the past few days, the two have transformed the exhibition space into a sophisticated and dream-like landscape of sight and sound, called
Hypersurface: A Medi(t)ation On Media And Architecture
.
Located at Middle Road, Sculpture Square's cavernous space has been divided into three mind-blowing rooms, each one representing a different stage of life.
When you enter the first room called the Fragmented World, you are bombarded by an aggressive multitude of images and sounds, even as you negotiate the lopsided ramps that you are walking on.
"The room is a metaphor for our loud and busy world - how we are overwhelmed with continuous information and images everyday," says Brian, who is dating a commando since he broke up with Vince.
Among the video clips projected on the room's backdrop is a segment featuring three naked guys doing strange things with plastic cups and toothpicks.
Brian explains: "I was toying with the concept of gravity, lightness and space.'' Urm, yeah... with three naked guys on screen, you'll probably buy anything he says.
There is also a sexy clip where he assembled footage from gay movies
Bishonen
,
Happy Together
and
Formula 17
to create a loving tribute to delicious actors like Daniel Wu, Stephen Fung, Tony Leung Chiu Wai and the late queen, Leslie Cheung. (If the clip isn't playing when you enter this room, you may wish to wait for no more than 15 minutes while other clips play.)
As you move away from the sensory overload of the first room, you enter the lush and gentle ambience of the second room - called the Floating World. Here, aerial shots of landscapes projected onto huge screens give you the strange sensation of drifting in the sky and looking down on the world.
Says Vince: "For the second room, we wanted to move the viewer out of his own body and out of the busy world of humans, into a place that isn't so human-centric - a quiet place for contemplation and reflection."
Finally, the viewer moves into the third room, called the Void. But when Fridae came to visit the boys at Sculpture Square on Monday night, the room was still being constructed, so we can't describe it for you.
But Brian says the Void is a place "where there are no answers and no questions, no right and no wrong - where there's no questioning of the gay lifestyle because there is no more sexuality. In short, there will be nothing."
The entire installation work gives you the sensation of stepping into a dazzling dream, where you feel relaxed yet alert and happy.
On a symbolic level, the work could be interpreted as a journey Brian and Vince took in first discovering their own gay sexuality, then making sense of it amid the noisy pro- and anti-gay arguments, and finally coming to terms with it.
Vince and Brian began dating in June last year. They conceived the work as a symbol of their love for one another. Alas, their relationship underwent a lot of strain as Brian is studying computer animation in Los Angeles, and Vince is pursuing architecture in London. They broke up recently.
"The long-distance relationship was very hard. When we met again after being separated for months, we found that we both had changed a lot," Brian reveals.
But they decided not to give up on their dream of creating a work of art together. Hence, the birth of Hypersurface - which they call their "baby."
Now that it is almost completed, Vince says he is relieved because creating it has given him a sense of "closure."
Brian adds, with a tinge of regret: "The cold reality is that sometimes, things just don't work out - even though we have so much in common with each other."
Hypersurface: A Medi(t)ation On Media And Architecture is on at Sculpture Square, 155, Middle Road (Tel: 6333 1055) until Oct 17. The show opens on Sep 8 with a reception at 7pm. Admission is free. Opening hours for the exhibition are 11am to 6pm on weekdays, and 12pm to 6pm on weekends. Brian Tan and Vince Ong will be present almost every night at the exhibition until this Sunday - just look for two cute guys and ask them if they're the artists.
Read more about the boys in Fridae's Q&A on the next page.
---

Brian and Vince on their art, sexuality and rice queens
æ:
How important is your gay sexuality to your art? Do gay images figure largely in your works?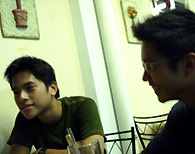 Brian and Vince (right)
Brian: When I was younger, I used my sexuality as an political and self-empowering tool. My art was really homoerotic, and the images in my work were obviously gay.
But as I grew older, I kind of moved away from that. I didn't feel a need to make my sexuality so obvious anymore. It's not that I'm denying it - it's just that I don't want people to know me as "Brian the gay artist," but as Brian first.
There's more to life than being gay, obviously.
æ:
Maybe after this interview, some Fridae readers will know you not as "Brian the gay artist" - but as "Brian the supercute twink with dimples."
Brian: Errr, okay...
Vince: For me, my sexuality is not an issue at all. I draw inspiration from all sorts of things, not just gay works. Most of my architectural designs are not gay-oriented. This exhibition is an exception because I'm collaborating with Brian.
æ:
Brian, you're pursuing experimental animation in Los Angeles. And Vince, you're studying architecture in London. What are the differences between the gay culture in Singapore, London and L.A.?
Brian: Actually, they're disturbingly similar. I was clubbing in L.A. and I thought, "This is just like Singapore!" Gay culture around the world is becoming homogeneous. Where is the diversity? And your sense of self?
The problem lies in how the gay subculture has been commodified. "Gay" is like a brand, a lifestyle. I get gay vibes everywhere in Singapore. Even mainstream advertisements, like M1's, have homoerotic images of guys running on the beach together.
Vince: It must be because we are so repressed here that gay images manifest themselves everywhere. As for London, I can't really comment on its gay scene because I don't go out all that much. At any rate, I'm not concerned with living a gay life. To me, I just live my life, and fall in love with anyone.
æ:
Do you guys get hit on a lot by rice queens in L.A. and London because you guys are so cute?
Brian: (coyly) I tend to avoid those people because they like to objectify and exoticise you. They can't seem to see you beyond your skin colour. In fact, a lot of gay men I met in L.A. have an Asian fetish. I don't know why but L.A. seems to have the highest incidence of rice queens.
æ:
Hahaha... I can vouch for that!
Vince: Westerners seem to have this Asian fetish because basically, we look younger. But I was in relationship in Brian this past year, so I didn't really pay attention to the white guys eyeing me. At any rate, London is very cosmopolitan. They are many Asians there, so I'm a dime in a dozen.
æ:
Has anyone ever approached you on the pretext of getting to know your art and then tried to date you?
Brian: Yeah, thousands... errr, just kidding, not a single one.
Vince: Yah, of course, there have been.
æ:
Tell us, now that you both have broken up, are you seeing anyone? You must be attached. Cute guys like you don't stay single for very long.
Vince: Nope, I'm single.
Brian: I'm dating a commando guy who's left his girlfriend for me.
æ:
Wow, that's one point for our team! You have to tell us all how you did it!
Brian: (sheepishly) Well, maybe another time.