Gay Amazing Race couple to marry in Canada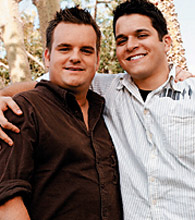 Former Amazing Race contestants Lynne Warren, 30, and Alex Ali, 22, are getting married in Ottawa, Canada.
The Amazing Race 7
boyfriends team of Alex Ali and Lynn Warren, who got eliminated in the show's broadcast of the conclusion of its Indian leg, will marry in Ottawa on June 1.
The pair said they are taking up the all-expenses-paid invitation from radio station Hot 89.9 to get married in gay-marriage-friendly Canada as they can't legally tie the knot in their home state of California. Their ceremony will be broadcast live on-air during Hot 89.9's Morning Hot Tub.
"Lynn and I have always, always thought about getting married. We've been together for five years and that's like 25 gay years," Ali, 22, told the
Calgary Sun
last week. "We were always planning on getting married, but in the States it's hard."
"Some people will be against it no matter where we get married, but the bottom line is we don't care what other people think," he says, adding his own father, who didn't know he was gay before The Amazing Race aired, is having trouble accepting the union.
"We want to encourage other gay couples to take their futures into their own hands, but we are not getting married to be gay-right activists or for the press. We are getting married for the gifts and we are registered at Macy's."
Amazing Race host Phil Keoghan and actor Rosie O'Donnell are also expected to be on hand for the big day. A minister will marry the pair during an 8 am ceremony at the Ottawa Congress Centre, in front of about 20 family and friends.
POST/READ COMMENTS
---
Free HIV tests offered to gay men in Guangzhou
Gay men in South China's Guangdong Province will have access to free and confidential access to AIDS and HIV tests from May 10 to June 10.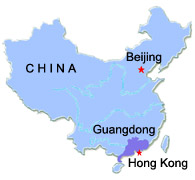 The month long free service is designed to be an annual event where local and foreign gay men can provide blood samples in anonymity by mail to the AIDS Prevention and Treatment Institute of the Guangdong Provincial Centre for Disease Control for AIDS and HIV tests.
A centre official said that confidentiality is a priority and examination results would not be leaked. He added that in addition to mail-based services, examinees could receive test results via the Internet if they do not wish to travel to the centre where doctors are available to provide face-to-face consultation. Clients can also test for hepatitis, syphilis and other infectious diseases for gay men during the one-month period at no charge.
The number of gay men makes up between 2 per cent and 4 per cent of Guangdong's total population, the official said, according to
China Daily
.
The exercise is aimed at helping the province study and research the spread of HIV/AIDS among the province's gay population and to tackle the spread of the fatal disease in Guangdong, which borders Hong Kong and Macao special administrative regions.
A total of 191 people were diagnosed as having contracted AIDS in Guangdong ast year alone. Although Guangdong's total number of AIDS patients officially numbered 5,051 at the end of last year, the official predicted that the prosperous province likely had as many as 30,000 underground HIV carriers and AIDS patients.
Guangdong now has the fourth greatest number of AIDS patients and HIV carriers in China. Yunnan Province in Southwest China is the worst HIV/AIDS hit region. It is followed by the Xinjiang Uygur Autonomous Region and Guangxi Zhuang Autonomous Region.
POST/READ COMMENTS
---
Jerusalem gay rights group delays WorldPride events due to Gaza withdrawal
Organisers of the international gay pride festival planned for August 2005 announced that the festival has been postponed until August 6-12, citing Israel's planned withdrawal from the Gaza Strip during the festivities.
The "disengagement" plan to withdraw from all Gaza Strip and four West Bank settlements was initially supposed to begin in July. However, Prime Minister Ariel Sharon last week postponed the pullout until August 15 because of a three-week Jewish mourning period commemorating the destruction of the biblical temples.
In a statement issued on May 14, Jerusalem Open House Chairperson Noa Sattath explained, "Tolerance, pluralism and equality are WorldPride's guiding principles."
"Holding WorldPride during the Gaza pullout would do injustice to those values. We have taken this decision out of consideration to the most difficult political climate expected in Israel this August. As a community we are deeply engaged in the complex reality surrounding us."
Although Muslim, Jewish, and Christian religious groups fiercely opposed the festival in Jerusalem, Sattath said the postponement was not related to the religious opposition. "The religious pressure only gives us more motivation, but the message is supposed to be of tolerance, pluralism, and equality, and that can't be done in August this year alongside disengagement," Sattath said.
Although the international festival has been delayed for a year, the annual local Jerusalem pride will take place on June 30.
POST/READ COMMENTS
Paris Hilton and mum named grand marshalls of LA Pride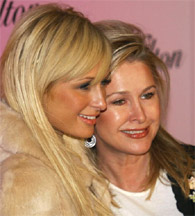 Celebrity and hotel heiress Paris Hilton and her mother Kathy.
Celebrity and hotel heiress Paris Hilton and her mother Kathy have been named grand marshals of the 35th Annual Los Angeles Gay Pride celebrations, organisers announced last week.
According to the
Los Angeles Independent
, Rodney Scott, board president of the a non-profit Christopher Street West, the parade and festival organiser explained their choice, ""They are a very public mother and daughter team, and they know what it is like to be different - or what it is like when people don't understand who they are. We are so thrilled and excited to have them as our grand marshals."
While some fans are thrilled with the
House of Wax
star being involved, correspondent Steve Koval whose blog appears on the Window Media group of gay newspapers including the
Houston Voice
wasn't as thrilled. He wrote that the organiser's explanation on their choice of grand marshals "reads like it is a spoof."
He continued, "With so many unsung heroes working for equality going unrecognised, the organisers of LA Gay Pride should be embarrassed and ashamed by their ridiculous choice."
It's not known if the mother and daughter pair has accepted the invitation.
The pride celebrations which draws an estimated 250,000 revelers annually to the West Hollywood Park will take place from Friday, June 10, to Sunday, June 12, and feature live entertainment, dance pavilions, carnival rides, and informational booths.
POST/READ COMMENTS