Designed for the Home Affairs Bureau to measure the territory's attitudes towards homosexuality, the draft survey came under fire as gay groups slammed the questions for being biased.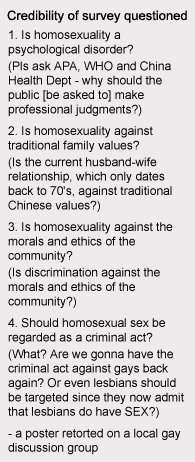 The draft survey included statements such as "homosexuality is a psychological disorder," and "homosexuality should be regarded as a criminal act" meant to solicit comments from a randomly selected members of the public.
Gay activists and observers decried the opinion poll released late last week in English and Chinese to members of the Sexual Minorities Forum comprising representatives from gay and lesbian groups, the Equal Opportunities Commission, Amnesty International and Aids Concern as being insulting and "lacking credibility."
"This has to be a joke," said Paul Louey Chi-ming, a social worker with the NGO Aids Concern, in a report in
The South China Morning Post
.
"Even China accepts there is no psychological basis, and homosexual (ity) is not a crime in Hong Kong. Is the government planning to repeal its own 1991 decriminalisation?" he said.
Roddy Shaw Kwok-wah, of Civil Rights for Sexual Diversities, said: "Putting aside the questions themselves, which are leading and prejudiced, this is not even a proper survey, and is a waste of time."
"This survey fails on every level, and any findings would be open to legitimate challenge on the grounds of methodology alone. It lacks credibility and runs the risk of giving a distorted picture of public opinion," added Shaw who is the managing director of a market research company.
The Home Affairs Bureau declined to comment on criticism of the draft.
After receiving flak in a previous effort to measure public opinion on homosexuality in 1995, the 2005 survey had been compiled by the government's contract market research agency, MVA Hong Kong, acting under guidance from a three-member advisory group comprising solicitor Christopher Chan Yiu-chong, former Equal Opportunity Commission chairwoman Fanny Cheung Mui-ching - now professor of psychology at the Chinese University of Hong Kong - and Priscilla Leung Mei-fun, associate dean of the school of law at City University.
The HAB proposed the survey last July saying that it was a necessary step before a sexual-orientation discrimination bill could be considered.
The bureau referred the survey's drafting to the advisory group and postponed it after vigorous lobbying by groups including fundamentalist Christians and the Society for Truth and Light which recently threatened to boycott a democracy march on July 1 following the orgnaiser's to include gays and lesbians as march leaders.
Gay groups will submit a formal response to the HAB.
Message from Civil Rights for Sexual Diversities (Hong Kong):
As a member of the LGBT community, we all have witnessed instances of discrimination, if not experienced them ourselves. Discrimination takes the form of unequal treatment, disparate effect, harassment, victimization and vilification in areas such as employment, education, provision of goods, facilities, services and membership to professional and social institutions. Because of the lack of protective law, victims of discrimination are often reluctant to make a complaint, not to mention there is no complaint mechanism throughout the government to handle sexual orientation discrimination cases.It is important that we voice out the need to outlaw discrimination against us. It is important that the public knows about our needs and the prevalence of discrimination before the survey takes place. A Sexual Orientation Discrimination (SOD) Bill may be drafted if the public survey and consultation indicates a strong support from the community for legislation. We urge you to show your support by signing this petition: http://sign.cr4sd.org; which will help to outlaw discrimination against us. It will also convey a strong message to the public and the government of how serious discrimination is in Hong Kong.
.