Spain becomes third country to legalise gay marriage
Spain has became the third country - after the Netherlands and Belgium - to legalise gay marriage as Canada's same-sex marriage bill is still subject to approval by the Senate by the end of July before it becomes federal law.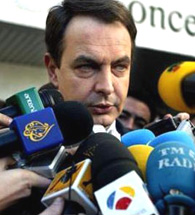 Prime Minister Jose Luis Rodriguez Zapatero
The new law, which allows same-sex couples to marry and adopt children, was passed by the lower house of parliament on Thursday and went into effect on Sunday. The law has seen Spain update its civil code to the extent that the word "spouses" may henceforward be of a different or the same sex.
The Catholic Church has since issued veiled calls for defiance. On June 18, hundreds of thousands of people in central Madrid marched in a demonstration called by the church to protest the same-sex marriage bill. Some 20 bishops participated in the event - the first time in the country's democratic history that the Church had demonstrated against a government initiative.
Prime Minister Jose Luis Rodriguez Zapatero said the move was "a step which raises the level of decency in Spain," ending the "legal marginalisation of people according to their sexual orientation."
Same-sex couples will now be able to request a date to formalise their partnership at town halls armed with just proper identification and proof of residence.
POST/READ COMMENTS
---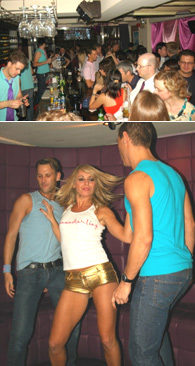 Kylie Minogue at Loft 9 in Hong Kong.
Kylie night raises HK$70,000 for Hong Kong Breast Cancer Foundation
In a tribute to Australian pop queen, Kylie Minogue, Loft 9, Hollywood Road, and a team of dedicated fans successfully raised HK$66,345 (US$9,000) for the Hong Kong Breast Cancer Foundation (HKBCF).
The fundraising party, which attracted over 200 people, was held on June 23, 2005 - the night Kylie was due to play in Hong Kong. Duet Kylie dancers strutted their stuff on the make-shift stage, while Hong Kong's 'beautiful boys' and 'showgirls' danced to their new and old Kylie favorites.
Hong Kong has the highest per capita rate of breast cancer incidences in all of Asia. From 1983, the number of crude cases in Hong Kong has risen from 31 per 100,000 to 56 per 100,000 in 2000. In the early 1990's, breast cancer surpassed lung cancer as the primary disease-related cause of death amongst Hong Kong's women.
The organisers Clare Woods, Anne Costello and Katrina Mayer, Manager of Loft 9, came up with the idea for the fundraiser when Kylie's tour to Hong Kong was cancelled after she was recently diagnosed with breast cancer. Sources report the pop diva has made a full recovery.