The Kata-Karon Municipality has approved the use of Karon Stadium for Fridae's fifth annual Nation party, laying to rest the recent cloud of uncertainty surrounding its use. However, due to concerns of residents, the venue could only operate till 1am as with other entertainment venues in the city and in Bangkok. The decision came as organisers met with the Governor of Phuket, the Mayor of Kata-Karon district and members of the Kata-Karon Municipal Council in a closed-door meeting on Monday.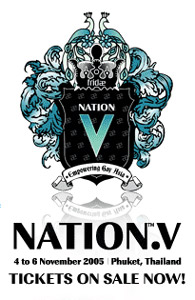 Phuket Governor Udomsak Uswarangkura re-iterated his support for Nation: "Phuket has much to offer visitors in terms of hospitality and the city will work closely with the organised to ensure that the event is a successful one."
"We are grateful for the warm welcome that Phuket is extending to guests of Nation.V," said Dr Stuart Koe, CEO of Fridae.
"With the full support of the Governor of Phuket, Kata-Karon Municipal Council, Tourism Authority of Thailand (TAT), local businesses and Phuket police; Fridae is confident that visitors to Phuket will enjoy unparalleled Thai hospitality."
In a bid to increase the level of local participation, a working committee will be established comprising representatives from TAT Phuket, the Kata-Karon Municipality, the Phuket Police Authority, representatives from participating hotels, as well as the organisers to facilitate effective communication between all parties involved in order to ensure the smooth running of operations.
Local businesses have also voiced their hearty support for Nation being held in Phuket.
Pattanapong Aikwanich, President of the Phuket Tourist Association said, "Having such a large group of international visitors converge upon Phuket in November will also encourage more foreign arrivals in the following months."
Enthusiasm and anticipation for Nation remained high despite the minor confusion surrounding the party venues. Almost 80 per cent of the rooms at host hotel and party venue, Crowne Plaza Karon Beach Phuket, have already been booked whilst those at supporting hotel Hilton Phuket Arcadia are selling fast. Fridae is also in talks with other hotels along the Karon Beach strip to cater to the large crowd of partygoers expected to descend upon the area over the Nation weekend.
Fridae is currently reviewing potential venue options, and will make an announcement regarding any change in schedule in the next few weeks. The number of parties, co-hosts and DJ lineup remains unchanged.