For the first time after new candidates from the ruling People's Action Party (PAP) were asked to articulate their thoughts about the ban on gay parties in Singapore and other gay-related questions earlier this month, three Workers' Party candidates were queried by the same newspaper.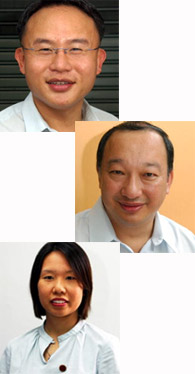 From top: Yaw Shin Leong, Eric Tan and Lee Wai Leng
Among other issues, Yaw Shin Leong, Eric Tan and Lee Wai Leng were asked what they would do should their son reveal he was gay.
Yaw, a 29-year-old business analyst, said in
The New Paper
: "There would definitely be silence at first. I'd need to absorb the shock. But then, I'd tell him: 'Son, I know you know best.'"
Fifty-year-old general manager of a financial services company, Tan, said: "I would accept it. In any case, I shouldn't be shocked if he is my son. I am not a blind parent."
Lee, 26, a businesswoman who runs her own translation company: "I would accept it because I encourage diversity. To me, it is just another sexual orientation and it is nothing to be ashamed of."
Their responses are starkly different from majority of the PAP candidates queried, several of whom stated their opposition to homosexuality due to religious reasons while one referred to his medical credentials saying: "I'm a doctor and I do not think that homosexuality is natural." (Click on the related article link below for more.)