Responding to the National Council Of Churches In Singapore (NCCS)'s statement on the proposed amendments to the Penal Code, the Free Community Church and SAFE Singapore have expressed shock and dismay at the NCCS for applauding the Singapore government's position to retain S377A of the Penal Code which criminalises gay sex acts, and a further call for a similar criminalisation of lesbians. The statement by NCCS was published in the March 2007 issue of The Methodist Message and was reported by Fridae on March 12.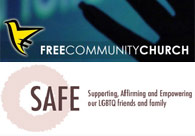 The Free Community Church is a non-denominational gay-affirmative and inclusive Christian group in Singapore, and SAFE is a support group of friends, parents, and family members of LGBTQ persons.
Religious beliefs of Singapore citizens and permanent residents
According to the most current Singapore Census conducted in 2000, 51 percent of citizens and permanent residents above 15 years of age professed to practise Buddhism and Taoism which are traditionally associated with the ethnic Chinese population. 14.9 percent of the population are Muslim, 9.8 percent Christian, 4.8 percent Catholic, 4 percent Hindu and 14.8 percent professed to have no religion.
The statements are reproduced below:
16 March 2007
Free Community Church, Singapore
www.freecomchurch.org
Free Community Church (FCC)'s response to the National Council Of Churches In Singapore (NCCS)'s feedback on the proposed amendments to the Penal Code
The Free Community Church expresses shock and dismay over the National Council of Churches in Singapore's feedback to the Ministry of Home Affairs, published in the March 2007 issue of
The Methodist Message
, commending the retention of S377A of the Penal Code, and further calling for a similar criminalisation of lesbians.
In particular we strongly object to the NCCS feedback in the following respects:
1. It is outrageous that an organisation, purportedly representing members of the Christian faith, is calling for the criminalisation of an entire group of people - the lesbian and gay community. The reality is that the gay and lesbian communities contribute significantly to the well-being and development of Singapore and we should allow them to live their lives in peace.
2. While as Christians we can preach our moral values, we should not seek to impose our point of view by advocating our view be made law that governs a secular state that includes non-Christians in a pluralistic society. This is tantamount to trying to impose Christian values onto non-Christians, not to mention that there is, in reality, no consensus regarding homosexuality even among Christians ourselves.
3. By its statement the NCCS undermines the very love commandments of Jesus who, at every point of his life, fought against the marginalisation, condemnation and oppression of minorities. Why is it that similar pronouncements have not been made of divorce or adultery, against which Jesus had much more to say?
4. The NCCS view not only undermines the Singapore Constitution Article 12(1), which states "All persons are equal before the law and entitled to the equal protection of the law", it also undermines the Christian belief that all human beings are equally persons of self-worth created by God in God's image.
5. The reality is that societally and globally, homosexuality is no longer viewed as unnatural by most legislatures except those that (i) have carried over the Christian ethos of the British Empire or (ii) are theocracies. Almost every secular legislature in the world no longer criminalizes homosexual acts between consenting adults. Today, homosexuality has been accepted by sociologists as a sub-culture.
In its 8 Nov 2006 press release, the Ministry of Home Affairs revealed that the approach to amending the Penal Code is, amongst others, "to update its provisions so that they remain relevant and effective in view of societal and global changes". With this aim, the government has made the initial step in proposing to repeal S377, abolishing the crime of anal and oral sex when carried out by heterosexuals in private. NCCS' call to further criminalise lesbians (never before included in this section of the penal code) is a retrograde step and a regressive move backwards.
To deny this, the Church neglects to take seriously its task of doing theology, being critical, constructive and contextual, re-thinking God anew in the ever-changing contexts of every generation that leads to justice for all God's people.
16 March 2007
S A F E (Supporting, Affirming & Empowering our lgbtQ friends and family)
safesingapore.blogspot.com
SAFE's response to the feedback given by The National Council of Churches (NCCS) on the proposed amendments to the Penal Code
SAFE is a group of family and friends who affirm and support gay and transgendered people as persons with equal rights to respect, dignity, acceptance and empowerment in society.
SAFE is appalled at the NCCS's view that, not only should criminalisation of men who engage in same-sex acts be upheld, but that the government should further criminalise women who engage in same-sex acts as well. In the same breath, they claim to express their love for sinners, but hatred for the sin, as if it were possible for our sexuality to be separated from our personhood.
We strongly object to the NCCS calling "criminals", our adult gay sons and daughters, brothers and sisters, nephews and nieces, aunts, uncles and friends. That Christians would call for the criminalisation of gay people surely speaks against their faith ideals of love, kindness, compassion, acceptance, humility and justice.
Different religions hold different stands on homosexuality, from the Christian right's view that it is sinful to the Buddhist one that it is not immoral and has the same moral status as heterosexuality. The NCCS, by attempting to turn their Christian moral teachings into state law, contradicts what the government has been trying to build and strengthen - mutual respect and harmony in our pluralistic society as evidenced in the Penal Code S298 and proposed S298A which oppose prejudice and ill-will amongst religious groups and call for religious harmony.
As is commonly recognized, homophobia largely emanates from the West's conservative evangelical Christian religious right, that is today, the main context for almost the entire Christian community in Singapore. This is evidenced not only by their stand on homosexuality but also their stand on the casino issue, stem cell research, and inter-faith dialogue. Hardly do they speak up for human rights, civil society and justice.
The NCCS is merely reflecting a traditional western conservative religious position on homosexuality, refusing to acknowledge their place in a multi-cultural and multi-religious Asian society, where in our history, same-sex love has been an integral part and parcel of Asian life; a society which respects and values the wisdom and tolerance of traditional yet diverse Asian cultures; and a society which upholds the Asian value of family against all odds.