Organisers of Sao Paulo's 11th gay pride parade said at least 3 million people - surpassing last year's count of 2.5 million - filled Paulista Avenue on Sunday, June 10, making it easily the world's largest such parade ever.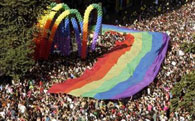 In comparison, the Associated Press puts the numbers of recent gay pride parades in New York and San Francisco to be in the tens of thousands and world gay Pride day celebrations in Berlin in 2004 to be between 200,000 and 500,000 attendees.
"This is the biggest parade on the planet," tourism minister Marta Suplicy said. "Our city is showing, once again, its respect for diversity."
The president of the Sao Paulo Gay, Lesbian, Bisexual and Transvestite Parade Association, Nelson Matias Pereira, said the march aims to confront homophobia, machismo and racism, according to the Agencia Brasil wire service.
For the first time in its history, the parade was officially attended by Brazil's ministers for Tourism and Sport, Marta Suplicy and Orlando Silva, as well as the governor of Sao Paulo state, Jose Serra, and city mayor Gilberto Kassab.
According to the BBC, the day before the march, about 1 million evangelical Christians staged an anti-gay "March for Jesus." The event organised by a major evangelical protestant ministry featured a concert with 30 Christian bands carried on 17 flatbed trucks performing live as participants marched through Brazil's financial capital.
Ironically, the ministry's founders Estevam Hernandes Filho and Sonia Haddad Moraes Hernandes were not present at the event after having become convicted felons on June 8 when they pleaded guilty to charges of smuggling more than US$56,000 in cash into the United States. The pair has been charged in Brazil with stealing millions of dollars from parishioners for their own use including the purchase of mansions and horse farms in Brazil and the United States. They will likely be deported home once their US case is resolved.