The Hong Kong High Court has overturned the Broadcasting Authority's ruling that Radio Television Hong Kong (RTHK) had breached the Generic Code governing their operations for not providing an opposite viewpoint when it aired Hong Kong Connection - Gay Loversin which a gay man and a lesbian couple discussed same-sex marriage and the challenges they face. The programme was aired on TVB Jade Channel on Jul 9, 2006.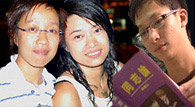 In Jan 2007, the Broadcasting Authority ruled that the RTHK-produced programme was "unfair, partial and biased towards homosexuality, and having the effect of promoting the acceptance of homosexual marriage."
The judicial review was sought by one of the documentary's subjects Joseph Cho after the Broadcasting Authority announced its ruling that would in effect require RTHK and all other broadcasters to include the views of the anti-gay lobby in every future documentary programme discussing LGBT issues.
The ruling was a result of complaints from the conservative Christian lobby that had alleged that the programme had discriminated against them by not allowing them to provide a contrary view.
According to a news report on RTHK's website, Justice Michael Hartmann said the authority was discriminatory and had restricted the documentary subjects' freedom of speech in its decision. He further cited bird flu and child slavery as examples of issues that simply did not have an alternate viewpoint.
For an in-depth report about the lead up to the judicial review, please click on the related article link below.