The following is a press release issued October 6, 2009 by the Council for Global Equality, a New York-based nonprofit organisation.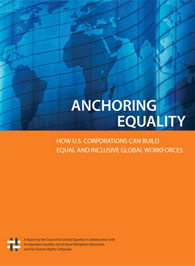 The report outlines steps that U.S. corporations can take to protect their LGBT employees and promote fair workplace policies across all of their facilities around the world. In some cases, that requires corporate efforts to change discriminatory local laws that interfere with business. Corporations that promote workplace equality on the global stage do so because it is good for their employees and good for business. A pdf of the report can be downloaded at
www.globalequality.org
.
The Council for Global Equality has released a new report examining workplace policies for lesbian, gay, bisexual and transgender employees of U.S. corporate facilities overseas. The report, Anchoring Equality: How U.S. Corporations Can Build Equal and Inclusive Global Workforces, was released at the Out & Equal Workplace Summit, the nation's premier corporate equality conference.
Written in collaboration with three major LGBT organizations, Immigration Equality, Out & Equal Workplace Advocates, and Human Rights Campaign, the Council for Global Equality's report charts a clear path for how multinational corporations can treat all of their employees fairly across the globe, without regard to sexual orientation and gender identity.
The report notes that many U.S. corporations have created equal workplaces for the U.S. based employees, but few have applied these policies and practices to their employees across the globe. U.S. corporations also lag behind their European counterparts in the provision of equal benefits for LGBT employees and their families when the employee is transferred to another country.
"These benefits and policies create personal and professional hardship for many LGBT employees - and there is a corresponding negative impact on the bottom line for companies when talent is lost," noted Julie Dorf, Senior Advisor for the Council for Global Equality.
Marcelo Roman of IBM agrees: "To be successful in this new global economy, we must attract and retain the best talent in all countries we do business. Providing equal benefits and opportunity to LGBT current and future employees will be key to our success."
Stuart Koe, an LGBT rights advocate from Singapore [and CEO of Fridae], also attending the Out & Equal conference, notes, "I think the fear of the future, the fear of losing talent, the fear of losing out in terms of world competitiveness will lead corporations in Singapore to rethink many things, including this issue of acceptance of gays in the community."
The report contains over 30 recommendations to CEOs, Human Resource officers, employee resource groups, and other executives who can help to make their corporations fully inclusive workplaces.
A pdf of the report is available for immediate download at www.globalequality.org.