On Saturday, October 31, 2009, over a hundred contingents led by six vans set in rainbow colours trod down the streets of the historic western quarters of Taipei city in a dynamic expression of diversity in lesbian, gay, bisexual and transgender (LGBT) cultures. The turnout of 25,000 broke the record of being the largest gay pride parade in Asia set by the Taiwan Pride Parade the year before.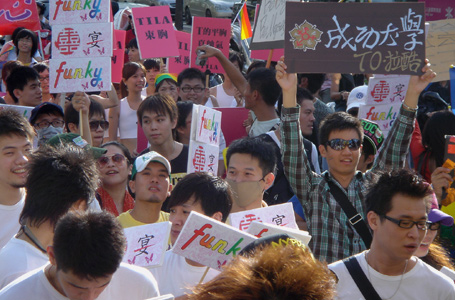 It is unclear if Taiwan's President Ma Ying-jeou was in his office on that Saturday afternoon to witness the event and hear the call for a non-discriminatory society, but the gay community had certainly made its presence felt across the island as the parade was broadly reported by major mainstream media outlets. Taipei has been noted by various international media as one of Asia's most gay-friendly cities.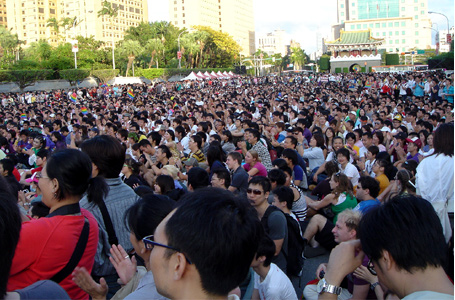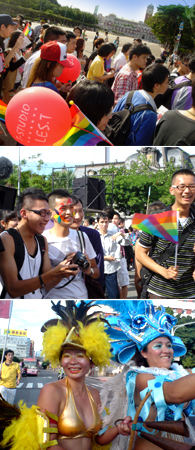 Contigents of marchers were organised around more than a hundred local NGOs and civil society groups from within and outside of the LGBT community, with a strong presence from student bodies (representing both gay and straight students) from numerous universities and institutions. A handful of high school students in school uniforms were also among the marchers.
Green Party Taiwan, whose political concerns centre around marginalised communities, continues to support the gay cause by sending a contingent. Also spotted among the marchers were participants arriving from the US, Japan, Malaysia, Hong Kong, mainland China, Japan, Singapore, Korea and other parts of the world.
This year's parade also included disabled participants who completed the course on wheels, while wheelchair-bound LGBT activist Vincent addressed the crowd at the end point. Lesbian mothers with their children and prams in tow made their calls for legal provisions to have babies within a same-sex partnership, while heterosexual supporters and family members brought along their children to heed the call in this year's parade theme - "Love Out Loud".
In a show of solidarity and discontent with the government dragging its feet over delivering gay-affirmative policies promised to the community during previous election campaigns, participants in the parade gathered on the grounds of Ketagalan Boulevard which runs before the Presidential Office Building to form a huge black cross (X) using printed sheets of "black hearts" handed out by volunteers.
In a series of rousing speeches made by representatives of various civil activist groups including the Taiwan Tongzhi Hotline Association, the Gender and Sexuality Rights Association of Taiwan and activist Josephine Ho, the community voiced its displeasure at the failure of lawmakers and political office holders from both the ruling Kuomingtang (KMT) party and the Democratic Progressive Party (DPP) to make substantive progress in gay rights and to bring justice to human rights abuses suffered by LGBT citizens.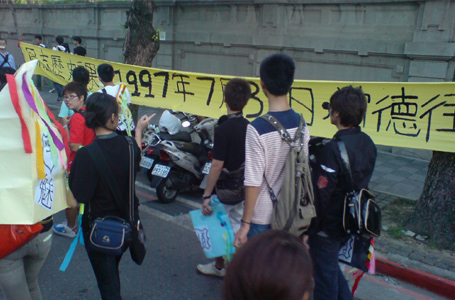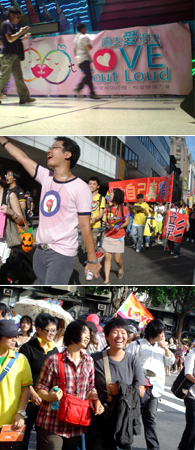 Along this year's route were numerous landmarks of significance to the gay history of Taiwan. On Changde Street and along the garden walls of the 228 Memorial Park banners were hung to mark events of historic significance which occurred at these venues, including the controversial abuse of civil rights by the police during armed arrests of gay cruisers in that area in 1997.
The 228 Park, formerly known as the New Park, has been a gay cruising ground for over half a century and whose role as the centre of Taipei's gay scene has been cast in the novel Crystal Boys poignantly written by famed gay novelist Kenneth Pai Hsien-yung.
Also along the route is the Ximending shopping precinct, home to some of the Taipei's oldest gay saunas, and the Red Mansion conservation building which used to house a cinema popular with gay men as a meeting place for socialising since the 1950s. Today, the plaza adjacent to the restored building has become a gathering space for the gay community with a host of cafes, pubs, retailers, hair salons, and other gay-friendly businesses springing up over the past few years to form Taipei's unique gay street.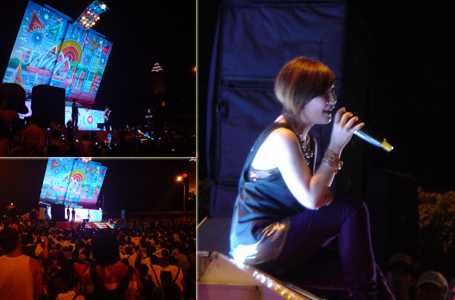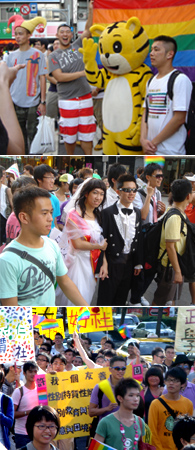 In the outdoor concert which followed the parade, Malaysia-born pop artiste Fish Leong (梁静茹) took the stage as the Rainbow Ambassador. Leong's popular hit "Courage" (勇氣), released a decade ago, has remained the de facto "anthem" for same-sex love in the Mandarin pop music scene. A young parade volunteer went on stage to describe how Leong's iconic song struck her heart and fed her soul during her growing up years as she was coming to terms with being a lesbian teenager. Leong, who is said to be preparing for her wedding currently, affirmed her support for the LGBT community, treating all to three of her love songs favoured by gay listeners. She also donated a pair of sunglasses for auction to raise funds for future pride parades. Also appearing in the concert were gay-friendly artistes Da Bing and Ding Dang from mainland China.
Coming soon: Pictures and videos of the Taiwan Pride Parade 2009 on fotos@fridae.