The following is an extract from the The Guardian UK. Click on the link below for the full story.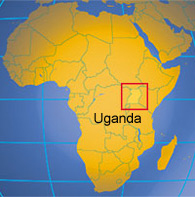 As a gay Ugandan, Frank Mugisha has endured insults from strangers, hate messages on his phone, police harassment and being outed in a tabloid as one of the country's "top homos". That may soon seem like the good old days.
Life imprisonment is the minimum punishment for anyone convicted of having gay sex, under an anti-homosexuality bill currently before Uganda's parliament. If the accused person is HIV positive or a serial offender, or a "person of authority" over the other partner, or if the "victim" is under 18, a conviction will result in the death penalty.
Members of the public are obliged to report any homosexual activity to police with 24 hours or risk up to three years in jail – a scenario that human rights campaigners say will result in a witchhunt.Ugandans breaking the new law abroad will be subject to extradition requests.
"The bill is haunting us," said Mugisha, 25, chairman of Sexual Minorities Uganda, a coalition of local lesbian, gay, bisexual, transgender and intersex groups that will all be banned under the law. "If this passes we will have to leave the country."
Human rights groups within and outside Uganda have condemned the proposed legislation, which is designed to strengthen colonial-era laws that already criminalise gay sex. The issue threatened to overshadow the Commonwealth heads of government meeting that ended in Trinidad and Tobagotoday, with the UK and Canada both expressing strong concerns. Ahead of the meeting Stephen Lewis, a former UN envoy on Aids in Africa, said the law "makes a mockery of Commonwealth principles" and has "a taste of fascism" about it.
But within Uganda deeply-rooted homophobia, aided by a US-linked evangelical campaign alleging that gay men are trying to "recruit" schoolchildren, and that homosexuality is a habit that can be "cured", has ensured widespread public support for the bill.