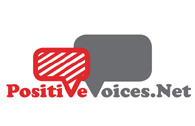 The following is a press statement issued by PositiveVoices.Net on Dec 1, 2009.
WORLD AIDS DAY: The prospect of living with HIV/AIDS is often thought to be a lonely and solitary road. Although advances in treatment and medication have resulted in HIV being classed as a manageable chronic condition, the sad truth is that many people living with HIV feel like they have no one to talk to. PositiveVoices.Net will offer HIV-positive gay men and transgender people their own social networking site built around their shared experience of living with HIV.
These feelings of isolation can be compounded for HIV-positive gay men, bisexual or other men-who-have-sex-with-men (MSM) who face "double stigma" because of their sexual orientation as well their HIV status. Many feel alienated even from their gay friends, leading to withdrawal and hopelessness. In some cases, this sense of isolation is a reason for not accessing treatment, care and support services, even when they are available.
In an effort to help positive gay men and MSM connect with one another and break down the barriers of isolation, a new multilingual social networking website will be launched in mid-2010 to provide a safe haven for the HIV-positive gay men and other MSM on the Internet.
PositiveVoices.Net will the first site of its kind to deliver an interactive "Web 2.0" experience and build a community of people living with HIV/AIDS (PLHA). Members will be able to share stories, find support, and gain confidence and empowerment as they navigate the complex road of living with HIV. The site will be launched in English, Chinese and Thai; other Asian languages will follow in a second phase.
The initiative, led by Fridae.com – Asia's leading portal for the lesbian, gay, bisexual and transgender (LGBT) community – will address a need that has been largely unmet by existing services. "The Internet gives positive people everywhere a safe way to connect with other like-minded people while maintaining their privacy and anonymity," explains Dr Stuart Koe, CEO of Fridae.com. "PositiveVoices.Net has the potential to transform lives simply by allowing them to tap into the shared wisdom and communal knowledge on living with HIV. You are no longer alone."
The number of Asian Internet users who are MSM is estimated at around 32 million, with 15 million users in China, over 1 million in Japan and the Philippines and 600,000 in Thailand. These numbers are expected to grow exponentially as more people gain Internet access through their mobile phones.
At the same time, HIV is rising across Asia with gay men and MSM identified as one of populations most at-risk. Prevalence rates across Asian cities for this group ranges from almost 1% in Manila, 3 to 4% in Singapore and Hong Kong, to as high as 30% in Bangkok. Rates are feared to be much higher for the transgender community.
Reports presented at a recent high-level consultation on Asian MSM and HIV/AIDS, co-sponsored by the U.S Agency for International Aid (USAID) and the United Nations Development Program (UNDP) showed that despite the existence of basic support networks across the region the uptake of these services by HIV-positive MSM is well below expectation.
Prevailing stigma and discrimination, coupled with fears of "losing face", pose significant barriers for HIV-positive MSM who may otherwise need help.
"HIV care and support is the missing link needed to build better prevention programs as well as better treatment outcomes," says Dr. Cameron Wolf, Regional HIV/AIDS Technical Advisor - US Agency for International Development (USAID). "It's so exciting to see the Fridae.com team developing innovative ways to serve the community through PositiveVoices."
"There is renewed effort to address the needs of gay men, MSM and transgender people (TG) in relation to HIV/AIDS throughout the region. PositiveVoices.Net can play a significant role as part of a comprehensive mix of services for this community," adds David Traynor from the Australian Federation of AIDS Organisations' (AFAO) International Program. "We're hopeful that this will lead to greater self-acceptance and empowerment of PLHIV across the region."
PositiveVoices.Net's mission is help its members make informed decisions about their health and well-being through peer-support in a safe and secure environment.
Members will be able to share experiences and read stories from other members through the +LifeMap, which is built on the premise that everyone living with HIV shares certain common milestones, such as being diagnosed, considering treatment initiation, telling a friend or loved one about their HIV status. A +LifeJournal will enable members to keep track of medication, doctor visits, lab results. Members will have access to a panel of experts, live chat tools and other features. Accurate information about the range of HIV-related services that exist in cities across Asia will also be provided.
"PositiveVoices.Net is a pioneering approach in the combat against HIV/AIDS in Asia," says Stanley Wong, Manager of the Levi Strauss Foundation in the Asia-Pacific region. "We believe this project will undoubtedly be a catalyst for social change."
***
PositiveVoices.Net is community initiative from the same team that brought you Fridae.com.
The project is funded with the support of the Australian Federation of AIDS Organisations (AFAO), the Levi Strauss Foundation (LSF) and the United States Agency for International Development (USAID).
PositiveVoices will be working in collaboration with Asia Pacific Network of People Living with HIV/AIDS (APN+) and Coalition of Asia Pacific Regional Networks on HIV/AIDS (Seven Sisters) as well as several other national and international HIV/AIDS organisations.
PositiveVoices.Net will be launched in mid-2010.