Evan Steer burst onto the Hong Kong scene almost exactly a decade ago; in fact the tenth anniversary of his arrival from Sydney falls on 20 November this year, the exact date he has chosen to launch the first gay record label in Asia. 'Burst' may seem, to those who know him, a bit hyperbolic a verb to apply to Evan, for he is not a man to blow his own trumpet and can strike the newcomer as almost shy at first. The shyness, though, if it exists at all, is only skin deep, for in terms of what he is achieving in the Hong Kong gay scene, 'burst' is if anything somewhat of an understatement. His club, Volume, opened its doors in Hollywood Road back in 2006, and in four years it has become the location for gay men to enjoy good music in Hong Kong. Now, Evan is making music, and not just in Hong Kong but across Asia.
When he flew up from Australia, Evan came to work in TV, and he still somehow juggles a full time day job as a TV producer with running Volume at night.
"I need the discipline of the regular work", he told me, "to keep me going and on the rails. I still love working in TV, too, so I'm not giving that up".
Yet he and his then partner Joseph Chan wanted to do something more than their day jobs. At the time, Hong Kong had its small share of gay bars, but none was really interested in music and the standard of what they played was often below par.
"We wanted to create a space with a clear vision in music. Volume was to be about good mix of sound spun by great DJs in a venue that was not cool, but fun; happy, but not sleazy. That's why the interior colours of Volume are warm and bright. It's a venue for friends." They pulled it off, and though no longer together in life, they remain happily so in business.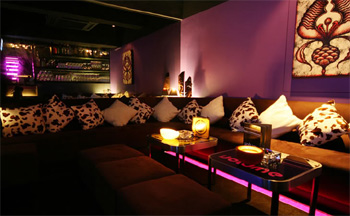 Volume (http://www.volume.com.hk)
Evan's musical incarnation is DJ Stonedog, and as such he's been spinning for many years. The first venture he made, though, into the making of music had its origins back in April 2008, when he collaborated with Japanese musician Yu Katsuragi aka Willie2400 on an exclusive Bananarama remix for Volume. This then gave them the idea to try an original track of their own. The result was DJ Stonedog's debut single "Rainbows" in which Willie composed the music and Evan not only produced but also provided the melody and lyrics. Through his TV work writing jingles for shows, he met Olynn Saleh, frontwoman for Singaporean house band 'Shagies' at Le Baroque at Chijmes. When they found themselves together in Singapore with some time to spare in 2008, they used a friend's studio to record 'Rainbows' which they then launched for Volume's second anniversary that November.
Initially, they pressed just 500 CD singles but the song, which is written as an anthem specifically about our gay pride flag, got such a good response, they re-released it a few months later, this time with a slew of new remix teams on board, all drawn in by the song's powerful message of unity and pride. There's even a Youtube video of the track where you can listen to it. To date, Asia's first ever official Pride song, has already attracted over 27,000 hits. The song was even picked up for the soundtrack of a Hollywood short film named Little Love. After that, Evan and Olynn released a second single "No I Won't" which Evan then followed up with 'Tranny in the House', a track by Volume's resident Drag Diva La Chiquitta, Hong Kong's first ever Drag recording artist. Asia's darling Ladyboy DJ Princess Ann from Malaysia came on board the project to remix it. The success of all three releases prompted Evan to take his ideas one more step forward in this fourth anniversary year and go for a full scale album. Thus was Volume presents: Club Anthems Asia conceived.
The ambition soon became bigger as the number and quality of the contributors grew, and now the aim is to produce not only the first LGBT album in Hong Kong, but to spread their wings wider to start Asia's first LGBT label. This album will be its trail blazer. Evan is now very proud of the concept of featuring LGBT artists from around this part of the continent and giving them the chance to be heard and seen on the international stage. The 23 all-original, in-house produced tracks feature both straight and gay artists from China, Malaysia, Singapore, Japan, the Philippines and Hong Kong, but distribution (which is being handled by TOCO Asia), is already targeted wider afield, and serious offers have been made for full-scale releases across Europe and Australia.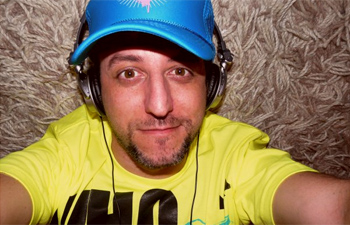 Evan Steer aka DJ Stonedog
The double disc mixset album will be launched at Volume's 4th anniversary party at Volume itself on 20 November. Evan himself either wrote or collaborated on 21 of the 23 tracks, some of which with legendary producers he has idolised since his teens. Most notable is Pete Hammond, who, back in the late eighties was Mixmaster for Pete Waterman's PWL organisation (aka Stock/Aitken/Waterman- the hugely successful trio behind Kylie, Jason and Rick Astley's early hits). He contacted Pete, who was wowed by the idea of the album and the song Evan pitched him. The result: a track entitled "Change Your Life". This is a song about 'coming out' and is performed by Volume's new resident girl band, Hollywood Road. Using clever subtext, the song answers its own question posed about 'how to come out' by cleverly including samples of Kylie's 1990 smash hit "What Do I Have To Do?"
The album as a whole is a collection of songs on the theme of LGBT life, clubbing and fun leavened with the more serious aspects of Asian gay lives. Hong Konger Johannes Pong, known to most of us as a writer and editor for Hong Kong Magazine, features on a track, and James Gannaban, the impresario of the Mr Gay Hong Kong organisation, has another. There's a connection here with David Bosley, winner of the 2009 Mr Gay Philippines title, who was in Hong Kong to present the prize to James's first winner, Rick Twombley, last year. David also contributes a track- a song about same-sex marriage rights.
Singaporean Andy Josh Lim, winner of the Mr Tantric 2009, has two tracks, one about open gay relationships and another about fun at the sauna. Other Hong Kong artists include La Chiquitta and several straight contributors who wanted to show their support for the project and the community, like Wendy Robin, the lead singer at ToTTS bar in the Excelsior Hotel, and rapper Gold Mountain, whose song "Delay No More", samples the famous MTR safety announcements and takes aim at the very popular, yet controversial, similar-sounding Cantonese slang term heard all over the city.
Initially, only those of you in town for the Hong Kong release will be able to get a copy, but further launches are planned for Singapore and other territories over the next six months, so you'll have to watch this space for news. There's a taster online of several track's on the Volume label's Youtube channel. Keyword search 'volumeuprecords' there to find their album samplers. The artwork for the album, apparently, is stunning, and purportedly includes a booklet with shots inside of the crowds in Volume, and on the cover a mix of stylish dragons-as-DJs by Man Tsun, personal Hong Kong illustrator and designer to some of the biggest celebrity brands here. And Evan plans that this album is but the first of a growing label with ever bigger and bigger launch parties in the future.
Until then, if you want to hear the whole album, you'll just have to show up at Volume on 20 November. Apart from this new collection at the launch, there'll be top international DJ Danny Bond of UK mega-stars Bassmonkeys headlining on the decks, DJ Stonedog himself and Brian Cua, Manila's famous DJ/producer who spins at Bed, the biggest gay club in the city. Several of Volume's label artists will be performing their album tracks live at the launch so no doubt the place will be packed; better get there early!
Check out Volume's website for details at: www.volume.com.hk. Fridae is the official media for Club Anthems Asia.