When Rick Twombley, a Caucasian American working in Hong Kong, controversially won the first Mr Gay Hong Kong award in 2009, the arguments about the propriety of this raged back and forth for weeks. Most of it totally ignored the fact that Rick had won the prize in open competition and had been chosen by a public that was, in the vast majority, Chinese, and a jury that was similar. They also ignored the fact that there is no way that in Hong Kong, which has a race discrimination law, you can have any form of public competition based on ethnicity. The catty remarks about gweilos who couldn't speak Cantonese 'pretending' to represent Hong Kong got pretty spiteful, but Rick put them all behind him and went on to Oslo to win second runner up in the entire Mr Gay World competition as well as the prize for Best National costume for his amazingly flamboyant oriental-fusion outfit.
So the event, at least, seemed to have dug itself a solid foundation and we all looked forward to the next competition scheduled for November 2010. As planned, it's going ahead, but not without a struggle. Mr Gay Hong Kong organiser, James Gannaban, is this year on his own, as last year's co-organiser, Noel Furrer, has moved to Macau, so Gannaban has shouldered double the burden. Joe Lam, publisher of Dim Sum magazine and Director of the Hong Kong Lesbian and Gay Film Festival is helping fill the gap, as are other friends.
Surprisingly, despite the sell-out success of last year's event, Gannaban has found it difficult to find a venue. I met up with him in Simplicity in Hollywood Road to find out what's been going on.
"I tried a lot of hotels and up-market venues, but though many of them made encouraging noises at first, when it came to the point none of them would let us use their space", he told me.
Sponsorship has also been slow to come in, something that the event needs, as its ticket sales won't cover its costs. FINDS and Paul Ramscar have, as usual, chipped in with some practical help and a few others are showing some signs of contributing, but major financial sponsors are so far lacking. I asked Gannaban why he thought this was.
"Businesses are still very shy of being open about exploiting the pink dollar here", he replied. "Our event is completely out in the open and the thought of all that cute bare flesh parading on stage makes them nervous."
This doesn't surprise. Hong Kong's business is still mostly in the closet, despite the sky scraper-high Calvin Klein ads you can see around the town and the frequent homo-erotic advertising in magazines and even on TV.
"They still seem to need it proved to them what .purchasing power our community has", Gannaban added. Hong Kong's business networking group Fruits in Suits is running an online survey of the power of the pink dollar in Hong Kong at the moment, so we may soon get some statistics to back up anecdotal evidence and the experience of the rest of the world.
---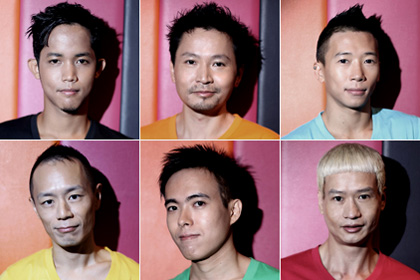 Top row (left to right): Leandro Hau, Kevin Li, Heihei Yau;
bottom (left to right): Simon Cheung Scanlon, Muse Lam, Alan Wong.
All photos courtesy Mr Gay Hong Kong 2010
Leandro Hau, 22, 26 July 1988
Leandro originally from the Dominican Republic, is a striking mix between Asian (Chinese) and Latino (Dominican) parentage. He is the first born among a brood of four. He presently works as a private Spanish Tutor. He enjoys dancing and having his friends take his photos all around Hong Kong.
Kevin Li, 40, 15 March 1970
Kevin works in a not-for-profit organization. He facilitates HIV testing especially for the high-risk demographic. He is also a champion ballroom dancer, winning the rumba and cha-cha rounds at a local public competition in 2006. He can sway the needle - and he can surely sway his hips!
Heihei Yau, 26, 5 August 1984
Heihei is a professional contemporary dancer. He graduated from the the HK Academy of the Performing Arts, and last year, he won Best in Talent at a dance competition in the Czech Republic. He presently essays various roles in a popular them park show.
Simon Cheung Scanlon, 38, 15 August 1972
Simon was born in Ireland to Cantonese parents. Three years ago, he moved back to Hong Kong to develop his career in language training. He also speaks a collection of European languages. He enjoys travel and is an avid wine lover.
Muse Lam, 27, 25 December 1983
Used to manage PR for gay dating club. These days, he enjoys the less stressful environment of the sales & marketing industry - but not for long. He aims to improve the circumstances of marginalized gay men by getting into advocacy work.
Alan Wong, 40, 02 February 1970
Alan provides care for HIV infectors through an emotional support program. He plays a traditional Chinese instrument –gu zheng and enjoys playing privately, during his spare time. He has a 7-year cocker spaniel named Jai Jai.
Vote for your favorite one on www.mrgayhongkong.com.
---
The new bar Hyde, which is a very smart location in Lyndhurst Terrace, has come to the rescue and Gannaban now has 400 seats he can sell there. Details of how you can get your tickets are below.
One thing that has changed this year is the ethnicity of the candidates. Maybe the non-Asian population of Hong Kong was frightened off by the abuse Rick Twombley endured last year, or maybe Hong Kong's younger Chinese generation has started to take the event seriously and so is prepared to come out of the closet and compete. Whatever the reason, Gannaban now has six really cute local Chinese candidates (you can see them for yourself on the Mr Gay Hong Kong's website at: http://www.mrgayhongkong.com), so the competition is going to be intense. Two fundraiser bar tours have been organised in November with 100% of the proceeds on "milk and lemonade shooters" benefitting an anti-bullying campaign organised in cooperation with the Tongzhi Community Joint Meeting (TCJM).
Why milk and lemonade? "We're using it to draw attention to the fact that we're campaigning to help school kids who are victims of homophobic attacks", Gannaban told me. "We've chosen to devote this year's event to supporting the campaign which is just beginning to take off in Hong Kong against homophobic bullying in schools. Mr Gay Hong Kong has linked up TCJM and is using its publicity value to draw attention to the campaign. One of the events on the final competition night will be a school wear for the same reason, using sexy looks and humour in a really good cause." Gannaban has already been on RTHK talking about this. The TCJM is devoting a page of its website to this aspect of Mr Gay Hong Kong's event and will use of any money that's collected to fund video making and lobbying in Hong Kong over the next year.
The intention is that whoever wins the Mr Gay Hong Kong title this will get involved in the community's events over the year and will be able to become one of its most active public faces. All this is an indication that Mr Gay Hong Kong is evolving into a more serious contributor to the LGBT community than many thought it would when it first appeared just over a year ago. Not that it's getting any less cute; check out the tongzhi tsai poster Gannaban has come up with to focus attention on the campaign.
Vote for your favorite one on www.mrgayhongkong.com. Voting closes on 26 November, Friday, 3pm. The online voting component is an important aspect of selecting the winner of Mr. Gay Hong Kong. The result of the Online Vote will be announced at The Grand Finale.
MR GAY HK GRAND FINALE
26 November, Friday, 7PM
HYDE, 2/F Lyndhurst Tower, No. 1 Lyndhurst Terrace, Central, Hong Kong
Advance tickets now available at Paul Gerrard & TIME Bar.
HKD250 advance / $300 at the door inclusive of 1 standard drink.
For ticket enquiries and drop-off/pick-up in Central, please call 92812066 (Chinese) or 97725792 (English).