Pink Dot, the annual event in Singapore which celebrates the freedom to love, this week announced that it has bagged Barclays Bank as a corporate supporter. The bank joins Google, who became Pink Dot's first multinational supporter last year, to support the June 30 event.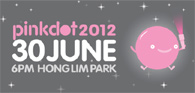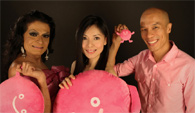 Pink Dot ambassadors Kumar, Sharon Au, and Lim Yu-Beng
First held in 2009 and attended by 2,500 people as a demonstration to promote the understanding and acceptance of LGBTs in Singapore society, the public rally grew to 10,000 in 2011 -- making it the largest public rally of any kind held at Hong Lim Park.
"We are excited by the growing number of companies that are 'coming out' and supporting a social movement like Pink Dot," said Pink Dot Sg spokesperson Paerin Choa in a press statement. "We are thankful that our corporate contributors this year recognise the value of inclusiveness and diversity, regardless of sexual orientation, and hope that more companies will contribute positively towards cultivating an inclusive work environment for their LGBT employees."
"Pink Dot Sg is a labour of love and our volunteers put in many hours of unpaid manpower into ensuring we have a great event," continues Choa. "However, funds are required for the event's operations and logistics, and the aid of corporate and individual contributors goes a long way in helping mitigate these costs."
Both companies are providing financial contributions as well as sponsorship in kind, Choa was quoted as saying in the Singapore Business Times that reported on Pink Dot's corporate sponsorship today.
Richard Seeley, Regional Head of Spectrum in Asia, Barclays global LGBT employee network says the bank is proud to be a corporate contributor of the event this year.
"At Barclays, we recognise the value of diversity and inclusion to our business and our employees. Diverse teams make better decisions and they better reflect our clients and the communities we are part of... We pride ourselves on facilitating a workplace where staff are respected for their talents and contributions, in an environment that offers everyone, regardless of their sexual orientation or gender identity, the same opportunities to be successful."
Google's APAC Diversity and Inclusion Manager Keerthana Mohan says: "Google supports its LGBT employees in many ways which include fostering a strong internal employee network, growing relationships with external organisations, and going the extra mile with workplace policies and benefits to ensure that our employees are treated fairly. We were delighted to see the success of Pink Dot in 2011 and want to contribute to its success this year again."