A same-sex sexual health organization in Thailand, Test BKK, is keen to remind us that there are more awkward things than getting tested for HIV. In their semi-arousing, semi-hilarious, semi-deadly serious YouTube videos, Test BKK highlight the ease of getting tested compared to other sexually embarrassing situations. Our favourite is Happy Birthday, which just teeters on the edge of soft-core pornography. We're also a fan of their tagline: Suck. F*ck. Test. Repeat.


The second generation of a Nintendo game popular in Japan has changed a function that allowed gay couples. Tomodachi Life is a somewhat surreal computer game reminiscent of The Sims. There was great mirth last year when the game was launched and users could let same-sex characters fall in love, have kids and even bathe together. However, this 'glitch' has been patched in the second version of the game, Nintendo referring to the bug as "human relations becoming strange." Nintendon't support equality it would seem.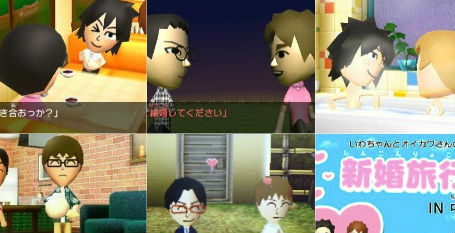 Lady Gaga is not the only celeb confessing her love of the gays. On the other side of the world, Taiwan celebrities have recently showed their support for same-sex marriage in their country. Jolin Tsai and Tanya Chua were among a cluster of (Asian) A-listers that graced a recent gay marriage in Taipei. And let's not forget A-Mei, the Taiwanese pop superstar who held a free concert in support of same-sex marriage at the end of last year.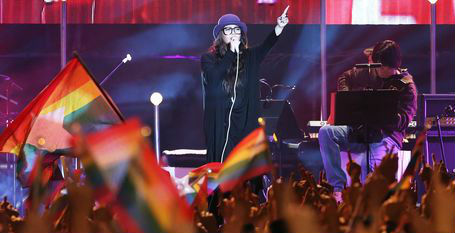 The Gigi Chao saga is continuing in Hong Kong with her exclusive interview in Porter magazine. Gigi Chao is a Hong Kong billionaire heiress/lesbian and also a reluctant LGBT ambassador to a city in which homosexuality holds a bizarre place of being neither accepted, persecuted or celebrated. Gigi rose to fame after her father, property tycoon Cecil Chao, offered 50,000 USD to the man that could 'turn' her. This prompted Gigi to publish a heartening open letter asking Cecil to accept her wife of nine years, Sean Eav. Dear old Cecil then rescinded the offer but stopped shy of welcoming his daughter's partner into the family.


Always looking to surprise the international community, North Korea has resorted to homophobic insults when reacting to a UN official who encouraged the International Criminal Court to investigate the persecution of government officials. State news agency KCNA labelled Michael Kirby, chairperson of the Commission of Inquiry into Human Rights in North Korea, a "disgusting old lecher with a 40-odd-year-long career of homosexuality."