One year ago, at the end of my first article for Fridae Autoclub, I mentioned my desire for a transformer as my dream ride; converting between different vehicles for different needs and occasions. I can't seem to be able to find one single car as my dream car. Upon driving the Audi RS6 Avant for the second time, as part of my routine for the review of this high performance estate, these thoughts were repeatedly playing in my head. Could this be the one car that one would ever need to own?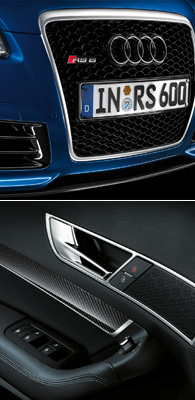 The obvious headlines grabbing performance of the RS6 Avant must be credited entirely to the twin-turbocharged 10 cylinder engine. There are 580 horsepower and more importantly 650 NM of torque from a very low 1500 rpm. From the word go, there is an instantaneous rush of power being delivered by a quick reacting six-speed automatic gearbox. Who can argue with a 4.6 seconds century dash time? Given a clear run, at every traffic light junction, the RS6 disappears into the horizon, leaving every other car.
My first experience with the Audi RS6 was at the Sepang F1 track at Kuala Lumpur, Malaysia. With proper guidance and some inspirations, I managed to top out at 250km/h on the final straight line dash with the RS6 (280 km/h is possible if limiter is removed). Two sensations were being registered, one obviously the trill of speed, and oddly the other being the high levels of refinement and rock sturdiness at the ridiculous speed. An excellent showing of Audi's attention to details and the levels of engineering that was thrown being at the RS6.
As addictive as the acceleration may be, there is a huge concern of the rather high fuel consumption. A claimed 14.0 Litres per 100 Km is a stretch as I struggled to keep the figures below 20.0 per 100 km. Perhaps driving the RS6 Avant more cautiously could help the fuel economy. But let's face it, the temptation of flooring the throttle to hear and feel the twin-turbocharged motor roar is the exact reason why one would fork out $475,000 for the Audi RS6 Avant.
As high as the outlay might be, there are little clues from the exterior to shout about that. Audi's understatement approach towards their car designs is very evident here and appeals deeply to me. The test unit came dressed with an all blacked out grille and wheels as an option. Shedding the chrome lends the RS6 Avant an even more mean demure.
The immaculate exterior lines is being mirrored in the interior. Lesser A6 models are already very well built. And in the case of the top dog RS6 model, there is an even greater sense of occasion. The installation of 2 separate buttons for engine start and engine stop seems to impart the feel of the drastic power movement that lies behind each button. Also the nicely weighted flat bottom steering wheel which looks suspiciously like an item nicked straight from the Lamborghini Gallardo is a sensational item to hold and use.
For those who wished to be chauffeured, there is simply no better interior than the Audi RS6 for all cars this side of half a million Singapore dollars. However, the ride quality on this performance bombshell can be harsh for passengers if the suspension setting is set in "Sports" mode. As some Fridae team members seated at the back were fighting to keep their food in after a brief dash from work to a movie screening. On normal driving roads, it is best to leave the suspension settings in "Comfort" mode, as there is thankfully more suppleness in the ride.
The famed Quattro drive, which is Audi's four-wheel drive system is responsible for the unflappable chassis. Reckless driving is always contained in a controlled manner, meaning eventually giving into understeer. A prized asset for the less talented or alert driver.
The madness for insanely quick Audi estate cars started in 1994 with the RS2 Avant, a collaboration between Audi and Porsche. With such a vast experience of churning out high performance estate cars, the Audi RS6 is their most complete effort yet with impeccable interior quality, good usable space, relentless power and pace and effortless style all dialed into one package.
The Audi RS6 appears to be the last and pinnacle product from the decade long power race among the three German premium car makers. This fascinating rivalry has come to an end due to eco-issues and new emission laws. As future high performance vehicles will seek out weight loss programs rather than squeezing out more horsepower from engine plants. None will be served as brutally as this.
| | |
| --- | --- |
| | Audi RS6 Avant |
| Engine | 4,991 cc 10 cylinder 40V, DOHC, Twin-Turbocharged |
| Transmission | 6-Speed Automatic |
| Max. Power | 580 HP @ 6250rpm |
| Max. Torque | 650 NM from 1500 to 6250rpm |
| 0-100 km/h | 4.6secs |
| Top speed | 280km/h (Limiter removed) |
| Fuel Economy | 14.0L/100km (combined cycle) |
| CO2 Emissions | 333 g/km (Euro IV compliant) |
| Dimensions (L x W x H) / Weight | 4928mmX1889mmX1460mm / 1985 kg |
| Price with COE* | $475,000 |
*Prices quoted are indicative of prices in Singapore. Please contact your local distributor for prices in your country.