Has Audi fallen into the art of Russian doll styling? Many were quick to judge the brand new Audi A8, Ingolstadt's technological flagship to look rather like a XXL A4. To a certain extent, we agree that's the case - but it's far more impressive and imposing than that, and not just because of its bigger dimensions.
What our pictures fail to show is the pronounced shoulder line and details that lends the A8 a much more graceful profile than the smaller A4, and the car it replaces. The new car has more chiselled and sleek looks too. We rate this to be a much more handsome car than the BMW 7-series and Mercedes S-class – but it could look somewhat bland next to the outrageous Jaguar XJ.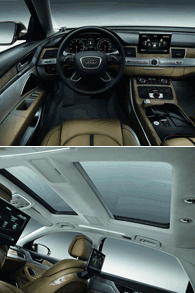 Lovely view thru the panoramic sunroof will cost you a not so lovely SGD$7,397
Beneath the understated looks is a limo built around a supercar-style aluminium spaceframe and boasting the sort of toys that looks at home on the Batman mobile. Which means our A8L is officially the slowest car we have ever encountered when it comes to the "start and go" process.
The OTT interior is equipped with quite easily the best infotainment available on any car; spearheading the charge would be the new touch-pad update to Audi's MMI (Multi Media Interface). This innovative system seems able to recognize cryptic handwriting where you can enter phone numbers, instruct the sat nav and choose among 6 preset stations; however on right hand drive cars, we suspect only left-handers (myself included) might find this system a joy.
Other niggles includes not having Goggle Earth powered Sat Nav as (oddly) they cannot be operated on cars in this part of the world. Still, these are slight distractions from a finely crafted interior with textures, tones and materials that looks more Bentley than a Teutonic saloon. In our long wheelbase A8, the back is an especially good place to sit too with the reclining chairs and individual entertainment hub.
However, these toys come with hefty price tags. Our recommended options includes; the 1400w B&O hi-fi (SGD$24,287), the panoramic sunroof (SGD$7,397), the LED Headlights (SGD$5,867) Audi Pre Sense Rear (SGD$3,632) and Side/Lane Assist (SGD$5,902), which means the A8L 3.0T's price swells up to SGD$378,779. It has to be noted that the A8 range starts from SGD$319,888, which seems like a massive bargain compared to the Merc S350L ($358,888) and BMW 740Li ($360,800), but it is ill-advised to drive off one without the specifying the right goodies.
Oh yes, speaking of driving, Audi (Singapore) made an exception for us to take the press car across the borders to Malaysia, Kuala Lumpur. We came away deeply impressed by the car's ability to isolate the driver and passenger(s) of any stress from long distance driving; my first drive (which Audi has no idea of … until now) along the Malaysian Highways was absolutely pain-free, except from feeling agitated by my overtly cautious (read: tedious) boyfriend that is on an infinite loop complaining about the speed while he is submerged at the luxurious rear cabin with new Family Guy episodes. Though thinking back, was it harsh of me when we are talking about speeds hovering around the electronically limited 250km/h – yikes.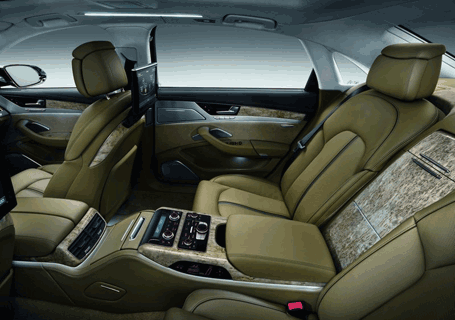 This will be first Audi to offer eight-speed automatic gearboxes and across the board, the new A8 range will offer more powerful, less thirsty engines. From launch two engines will be available: a 3.0 supercharged V6 (our car) and a 4.2 V8 (standard or long-wheelbase). Those seeking their highs from speed will be happy to wait for the S8, but that will be powered by a turbocharged V8 (shared with Bentley Continental) rather than the Lamborghini-sourced V10 of the outgoing model. Torque is now split 60:40 in favour of the rear wheels and there's an S4-style Drive Select system that can tweak the steering and gearshift maps depending on your mood.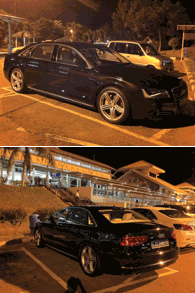 Thanks to my Mr.'s limited bladder capacity, There's plenty of time to stop and think about the looks of the A8. It does look a lot like the A4 from the rear, right?
Our "base" model is available only in long wheelbase and its engine seen previously in the A6 and S4/5, in this application, it is tuned to 290bhp and a massive 420Nm of torque at your disposal from 2,500 rpm. Doesn't sound like much in a large limo, but 0 – 100km/h takes just 6.2 secs. That's the time the previous model with the 4.2 V8 would take; impressive progress and credit to Audi's extensive use of aluminum that helps keep weight somewhat in check despite the standard all-wheel drive system.
Having driven the A8 for 800km over 3 days, we think Audi has done a fantastic job to dispatch segment leader the Mercedes S-class as the default limo for comfort. Though it may not provide the driver as much "thrills" like the BMW 7-series or Jaguar XJ, we suspect drivers or those being driven will never find that a factor.
As you'd demand of a car in this class, the A8 is filled to the brim with electronic goodies and built like a vault with an interior that feels like a Bottega Veneta bag. Now the CEO's toughest decision will be to decide which shade of sliver is best suited for his anti-stress limo. Oh, if silver fails, there are three variations of black too.
| | |
| --- | --- |
| Engine | 2,995cc 24-valves, V6, supercharged |
| Transmission | 8-speed automatic |
| Wheels Driven | All Wheel Drive |
| Max. Power | 290bhp @ 4,850-6,500rpm |
| Max. Torque | 420Nm @ 2,500-4,850rpm |
| 0-100 km/h | 6.2 seconds |
| Top speed | 250km/h (limited) |
| Fuel Economy | 10.8km/L (combined) |
| CO2 Emissions | N.A |
| Dimensions (L x W x H) / Weight | -/1,880kg |
| Price with COE* | SGD$319,888 |