Well known among the Singapore lesbian Internet community, e! who is a 30-year-old fitness consultant started a mailing list known as RedQuEEn! in 1998 with 17 women. The list now has a membership of 588 members and has become the place to meet like-minded women through picnics, BBQs and other activities.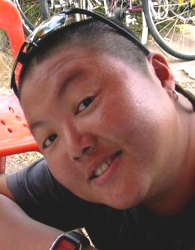 About e!

Fridae: When did you realise you were gay or lesbian?

When I had sex with my first girlfriend! I was 25 then.

Fridae: Are you out to family and friends? (Yes.) If yes, could you tell us something about it?

First of all, I had my head shaved, in some sense, making a statement. Yes, I realise it seemed stereotyping, but it did help with my coming out, on a personal level. I actually worked myself up to a frenzy; planned and plotted various ways to tell my straight friends. They were all pretty cool about it, I mean, they didn't have much of a choice! A good friend of mine, Jacqueline said this in response to my coming out: "Red hair, green eyes, webbed feet - to me, you will always be you! (which I'm totally grateful for).

As in the case of my mother, I was kind of dragged out of the closet. She asked if I am abnormal, I said No! Then she asked: ni shi bu shi, Tong Xin Lian? (Are you gay?) To which I replied: Yes. I've always adopted the policy of honesty, never lied about my sexuality. That is why I took long to come out to my folks, simply because my folks never asked, but when the time came for the final showdown, it wasn't all that bad!

Fridae: Is it an important factor in your life?

Not really. I've always thought that if I were to insist on coming OUT to my folks and be 'in your face' with my sexuality, it would have been a mindless, selfish act. 'Coming out' to me, is to bring out into the open my sexual preferences. Besides, I believe my mum knew that I was and am gay anyway... :-)

Mum's cool about it. I'm just waiting for The Challenge of actually introducing my girlfriend to her... (I don't have one at the moment) I do wonder at times how her reaction will be. I guess, the coming out process is never-ending... I feel a lot better now that I am openly out, kind of like letting out a good fart; a HUGE relief. ;P

Fridae: Do you believe in monogamous or open relationships? Are you in one?

I am not in a relationship at the moment. For me, it all depends on my frame of mind when I am within a relationship. I can be extremely an jealous and possessive person and with that, and prefer monogamous relationships.

To me, an open relationship is when both parties are 'allowed' to have sexual intercourse with people other than the committed partner, and yet, be able to go home to that person. I believe that that takes a lot of trust and honesty, and I might not be able to accomplish that at this stage in my life. I'm just a One Woman Dyke.

Fridae: What kind of underwear person are you?

I don't wear any, too freaking hot! If I do, it would be g-strings from Marks and Spencers. Can't go without bra tho', might get a black eyes from all that bouncing around.

Fridae: What's your favourite CD?

RedHOT+RIO It's such a sexy album.

Fridae: What kind of pet do you have? And why?

A dog. Cats are Brats. (Pussy lovers, DON'T scratch my eyeballs out!) With Cheeky (my dog), she gives me the same BIG welcome everytime I come home.
---
About e!'s Community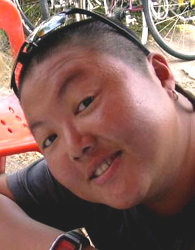 Fridae: Have you ever encountered prejudice because of your gender/sexuality?

I have encountered prejudice because of my HAIR-do! Toilet attendants, fellow pee-ers, custom officers etc� They have all judged me by the way I do my hair! How ridiculous is that?

Fridae: How did you deal with it?

I stick out my tits at their faces, leaving them all confused. Or I would speak with my most feminine voice and in as campy a manner possible, make a mockery of their behaviour; embarrass them rather than be embarrassed!

Fridae: Do you work with/support any gay or lesbian community groups? How?

Yes. RedQuEEn! the email list for Queer women living in Singapore. The list was started to be an online support group for lesbians like myself. We talk about virtually any topic online. It is easier to talk about oneself behind a pseudonym, people don't judge you, they have nothing to judge you by...

Anyways, we started with a group f 17 women in 1998, now, we have 588 women on our list. I am surprised that the membership has grown so quickly, I guess people must really have wanted a space like this... who would have known? I hope that people who are looking for a space to network and socialize will come and join us.

We hold regular gatherings like BBQ, potlucks.. ANYTHING with food, so that the bunch of strangers have something to talk about: the FOOD, lol.

Fridae: Have you ever participated in any pro-gay or lesbian events? If so, which?

The safe-sex workshop for women, that RedQuEEn! organised. Countless gay parties organised by my gay boyfriends!

Fridae: What do you think we need most in Asia's gay and lesbian community?

For a start, getting rid of typical stereotypes of ALL lesbian women are Butch, and that ALL gay men are effeminate! Overcoming such basic stereotyping will very hopefully begin the process of accepting us as part of the status quo.

Fridae: What advice would you give to someone who is trying to come to terms with his or her sexuality?

Listen to yourself, don't lose yourself, BE yourSELF!

Apr�s Interview

Fridae: Tell us something about your first sexual experience?

It was with a penis attachment, that is, a biological heterosexual male of the species homosapiens.

Fridae: What is your favourite fantasy?

To use a strap-on on a penis attachment! (See Above for explanation) Sex between two men is SUCH a turn on; even more so, when the lines of gender roles are blurred.

Fridae: Which is sexier, mind or meat?

MIND! Nothing like a good session of mind FUCK!

e! can be contacted at redqueen-owner@yahoogroups.com