In what is believed to be the first ever gay and lesbian parade in Singapore, 31 fabulously dressed girls, boys and divas walked a block around Zouk Disco, one of the island's most progressive nightclubs on Tuesday night.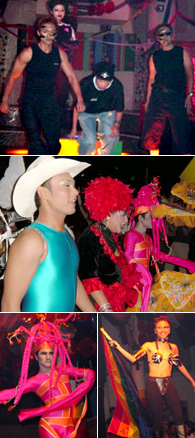 Though somewhat brief and with only rainbow flags to hint at the event's gay focus, the parade was significant as it signified the stand being taken by the participants. In Singapore, any kind of public gathering can be classified as illegal if it does not have a Public Entertainment Licence (issued by the police) .
The parade that culminated in a 30-minute performance is part of the women only monthly parties called Club Herstory. The theme was chosen to coincide with the Sydney Gay and Lesbian Mardi Gras (SGLMG) celebrations held annually in Australia. Club Herstory has celebrated the SGLMG since 1999 with a screening of the parade video during the party.
"I'm organising this Mardi Gras parade in conjunction with the one that is happening in Sydney at about this time of the year. There are many lesbians who do not know about Mardi Gras or may have heard about it but never had a chance to see how its like. I decided to organize a mini Mardi Gras parade so that the girls can feel the mood of this occasion." Says Cary Tan, the organser of Club Herstory.
With more than 2000 women on its mailing list, Club Herstory was started in June 1998 to provide one of the few opportunities for lesbians to get together.
"The club was mainly set up to give lesbians in Singapore a place to meet up and party every month. And I am also taking this opportunity to 'educate' the younger girls by putting up shows that sometimes bring across a certain message to them," explained Tan.
While lesbians have never been prosecuted under the Penal Code; however, homosexual sex between males, whether private or public, is illegal in Singapore, those convicted can be sentenced to life imprisonment.
The city-state is known to censor same sex kissing scenes in popular TV programmes such as Ally McBeal.