The weather was variable that day in November, but the on-and-off rain showers didn't dampen the enthusiasm, style and grace of Koman Wahyu Suteja, owner of the Komaneka Resort, Spa and Gallery in Ubud, Bali. Over a sumptuous lunch of grilled local fish, Koman explained the reasons for the boutique resort's success with the upper-end range of travellers, including many well-heeled gays.


Koman believes the 80 to 90% occupancy rates he enjoys are due in part to "a combination of simplicity, style and staff", one that gives the discerning traveller a truly individual and intimate experience. Utter discretion for the gay traveller is assured by Koman and his friendly, professional staff.
Located in the heart of Ubud, Bali's cultural and spiritual centre, Komaneka Resort is an ideal base in which to explore the pageantry, art and beauty that are considered commonplace in and around Ubud. The Balinese culture and art scene is embodied in this small, mountainous town, where you will experience a gentle, spiritual and unique culture found nowhere else on earth. Despite its central location on Jalan Monkey Forest, the resort is an oasis of tranquility and refined elegance. From here you can easily walk to Ubud Market, the major temples, cultural performances, galleries, museums, restaurants and shops.
Accommodation at Komaneka Resort is comprised of only 20 rooms, ranging from pool and garden villas to deluxe rooms clustered in and around the zen-like setting. It's no wonder the resort is a hit with sophisticated Japanese travellers, something that Koman didn't plan when he set out to build his dream resort. Dining facilities include a beautiful Balinese garden terrace that features Indonesian and Western specialties, a pool bar for light lunches and 24-hour room service.
Rooms and villas are situated in such a way as to promote maximum privacy. Sliding doors open to cool breezes on elegant sleeping pavilions; bathrooms are tastefully done in marble with large baths. And many rooms feature a secluded outdoor shower in your own private garden! And did I mention the swimming pool is to die for? What more could the gay traveller want...?
---
Ah yes, a spa! No resort is complete without one, and The Komaneka Spa is first-rate if a bit on the small side. It overlooks rice fields and lush landscapes, with the sounds of rippling water complementing the soothing aromas of natural herbs and spices. What the spa lacks in size, it most certainly makes up for in the quality of its various massage therapies and wonderfully skilled masseurs and masseuses, with Ngah being this writer's personal favorite.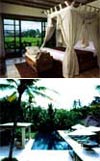 All of the aromatherapy massage oils used are made from herbs grown in their own garden or made in Bali. For US$25 one can enjoy a one-hour traditional Balinese style massage that uses a combination of stretching, acupressure and Swedish massage technique. Or for US$50 you can indulge yourself in a one-hour session that starts with an aloe vera and mint body wash followed by a relaxing Balinese style massage performed in well-orchestrated unison by two masseurs.
The spa service is offered in an open-air treatment room with ample privacy for couples, friends or those wishing perfect solitude. Of course, a full range of manicures, pedicures, facials, body scrubs are on offer.
Komaneka Resort is actually an outgrowth of Koman's passion for fine art and promoting young, talented Indonesian artists. The passion for art runs deep in this old-line family whose scion is Suteja Neka, founder and director of the famous Neka Art Museum, where many of Bali's most famous works of art from Bonnet to Le Mayeur to Aries Smit can be viewed.
No visit to Ubud can be complete without a trip to the museum. Koman's art gallery has helped spawn the careers of several important Indonesian artists, including Made Jirna and Hanafi. Christie's and Sotheby's have both auctioned their works. The gallery has more recently featured the works of Pande Ketut Taman, an up-and-coming Balinese artist who just finished an exhibit in November at the Artfolio gallery in Singapore's Raffles Hotel.
While not exclusively a gay resort, Komaneka offers everything a sophisticated gay traveller would need in Ubud, save the sex!
Published room rates up to March 31, 2001:
Pool Villa US$ 30
Garden Villa US$ 210
Suite Room US$ 190
Deluxe Room US$ 135
High Season Surcharge US$ 35 (from Aug 1 to 31 and Dec 24 to Jan 6)
21% service charge and government tax to be added to rates.