On 8th August 2001, Singapore finally experienced its first large-scale GLBT community event. Nation, a party which has been dubbed by external press as Singapore's "coming out" party, took off with over 2,000 guests coming to celebrate both the eve of Singapore's National Day, as well as their joy and sense of togetherness. The event also hoped to raise funding for local safe-sex group AFA (Action for Aids), who will be receiving a portion of ticket sales.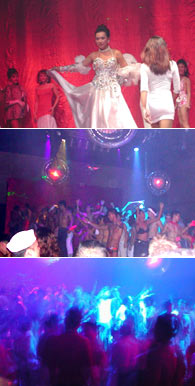 From the top: Contestants of the Miss Divastating contest, partygoers dancing away into the night
Organisers of the event, Fridae, says the party hopes draw members of Singapore's GLBT community closer to each other, allowing all of us to share our differences, and revel in our individuality.
At 9 pm, guests began trickling into Fantasy Island, the country's popular water theme park. By 10:30 pm, the trickle had turned into a flood.
Many of the guests were arriving in costumes, feathers, flowers, and skimpy outfits, with several groups dressed identically in contingents. Guests who flew in from Sydney, Malaysia, the US and Hong Kong came dressed in themes as well. Partygoers were still arriving at 2 am.
"It's so Mardi Gras!" one guest enthused. And it was, in a way. The spirit of celebration was infectious, with people taking the first ever opportunity to dress up, throw modesty to the winds, and strut their stuff in an open, public event where the entire GLBT community was welcomed and accepted for who they were.
One guest even spent the night walking around clad only in a jockstrap, much to the admiration (and perhaps, envy) of the other guests. Other guests chose to wear swimming trunks and skimpy shorts, bathing suits (although the pools were closed), or come in drag.
The venue was divided into three zones. The Centro Boyz zone where the fabulous Miss Divastating drag competition was held, the Womyns zone, where no men were allowed for most of the evening, and the Chill Out area where guests could mingle and booths were set up selling food, drinks, toys and distributing flyers.
Local police made their obligatory visit at around 11:30, with 8 to 10 uniformed officers checking to see that everything was all right. They left without incident or comment after about 15 minutes.
---
The show started at around 11 pm and ended around midnight, when the panel of judges, including local celebrities and businesspeople, crowned the most Divastatingly beautiful of the contestants, 29 year old Miss Freda Fairuza.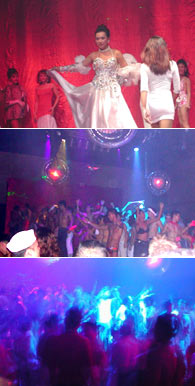 From the top: Contestants of the Miss Divastating contest, partygoers dancing away into the night
By 12:30, the floor of the room was packed, with hundreds of hard-bodied men gyrating closely together. The Womyns room, with its foam area, was slower in filling up.
One guest, a reporter from a local paper, jokingly told us that this was discriminatory. "Hey, guys are entitled to foam too!" she added.
Although the media was not officially invited to the event, Fridae did not turn away any guests, even those belonging to the local media. "They have the right to come and party, too," was stated by Fridae management.
"While we can hope that they will see this event for what it is, and not sensationalise it, we will respect their right to join the event, as long as they respect the rights of other guests."
Fridae did draw the line at cameras and recording devices, to safeguard the privacy of the guests. A photographer from a local paper did insist on taking pictures from outside the venue, although he was not allowed to enter the venue itself.
DJs from Kuala Lumpur?s Liquid Room and Movement spun the tracks and kept the people wild on the floor.
At 3am, after much begging and pleading, the organisers of Club Herstory, the monthly lesbian party and who were managing the Womyns room, graciously agreed to let the boys in. This triggered off a mass migration from the Centro Boyz zone, as everyone wanted to get a taste of the foam.
The room was the last to wind down at 5am, when the party was slated to end. As the tired guests left, they were given condoms sponsored by Preventor with the reminder to have safe sex.
Was the event a success? Many guests came and congratulated the Fridae team on the party. "Great party, we hope you?ll do it again," one guest from Australia told us. "You guys did an amazing thing here," another told us. "You should be proud."
Prior to the party, there was some discussion on the Fridae forums about "Pride" and how it is venerated in other countries. Critics had commented that by keeping apart from the straight community, and disallowing media and coverage of the event, Fridae was not fully promoting GLBT Pride.
But Pride is nothing if not personal. It is seen and acquired differently by each person. Ultimately, Pride begins within each gay, lesbian, bisexual or transgender member of the community, with each one discovering acceptance, understanding and a measure of self esteem.
Fridae hopes that we have helped achieve this, by taking a step in bringing the community together. At the Chill Out zone, competing drinking establishments worked together to manage the bars. Competing saunas shared a booth to distribute promotional materials.
Singapore?s AFA group also held a booth to distribute safe sex leaflets and stickers. Local groups, including Safe Haven, a gay Christian group, likewise came to distribute information about their activities. The community came together, mingled, and developed a better understanding and respect for each other.
Perhaps the comment made by one young guest sums it up for us. "Wow. Seeing everyone and all this, somehow I don?t feel so alone." And that is where Pride begins.