Representatives of 27 gay rights and conservative religious groups clashed on Monday at a Legislative Council home affairs panel subcommittee meeting.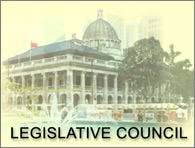 The sub-committee is to make recommendations to the Home Affairs Bureau on the need for anti-discrimination legislation on the grounds of sexual orientation.
The gay rights groups are seeking legal protection on the grounds of sexual orientation including an Equal Opportunity Bill, domestic partnership, equality in age of consent, public housing policies etc.
A strong opponent of the proposal, Pastor Daniel Ho Sin-pan of the Kau Yan Church, drew an angry response from gay-rights groups when he said the legislation was unjustifiable as homosexuality was a personal choice, according to Hong Kong?s
iMail
.
"Whether homosexuality is in-born is still a belief, not a proven fact. It is only a selected way of living," he said. "So why should we set up a law to protect a lifestyle?"
Lee Fu-wing, executive officer of the Rainbow Fellowship, a religious group for homosexuals said there should be a law to protect homosexuals who were discriminated against in housing, education and social policies.
Tommy Chen Noel, executive committee member of Rainbow Action - a gay rights group said the Housing Department and the Housing Bureau had admitted in a report in June that their policy was discriminatory. "However, the Housing Bureau has no intention of ending the policy," he said in an
iMail
report.
Gay groups in Hong Kong have been urging gays and lesbians to write to the Legislative Council to show that there is support for the proposal. The executive branch of the HK Government has been refusing to introduce an Equal Opportunity Bill on the grounds of sexual orientation in the past few years, saying that there is a lack of public support.
Supporters should write to Mr. Stanley Ma at the Legislative Council, email: cb2@legco.gov.hk, fax: (852) 2509 9055.
Letters should also be copied to Ms. Cyd Ho, Legco member and the chairperson of the Subcommittee to Study Discrimination on the Ground of Sexual Orientation at cydho@hkstar.com and gay activist ChungTo at chungtohongkong@yahoo.com.
In related news, five gay rights activists have been arrested for disorderly conduct after they staged HongKong?s first sado-masochism (S&M) protest against a police raid on a local sex shop on August 12 during a live sex show, the
Reuters
news agency reports.
Last Sunday, 10 men and a women who are said to be members of "Rainbow Action", a gay right s group, marched across Hong Kong's central district to a police station wearing leather outfits and chains and mock whipping each other through the streets.
The group accused police of applying double standards in determining what constitutes an indecent performance and that the police are far more tolerant when women were the ones being dominated by men as opposed to the other way around. They added that sex play between women for the benefit of heterosexual men is tolerated to a much greater degree than sex play between men for the benefit of other men.