I was looking for apartments in my once-and-future home town during Pride last month. Actually, it's more like PRIDE, in very big letters, and I'd get extra points if I could spell it using the Rainbow Flag colors. One local man estimated that the population of my new neighborhood - Hillcrest, in San Diego, California - was going to grow by 100,000 for the day, although the population of people wearing shirts only grew by a few dozen.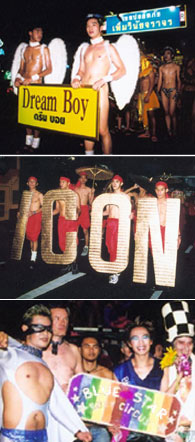 Boys from go-go bars Dream Boy and Blue Star Sexy Circus, and nightclub Icon at the Bangkok Gay Festival parade last year
Fags in tank-tops and dykes in bikinis lined University Avenue, flirting and dancing and rubbing themselves and each other down with gallons and gallons of sun-screen. That's one thing about PRIDE here: it happened in the middle of the day, in the middle of a sunny summer Saturday, in full view of God and the nation, and a small group of poorly dressed people on the other side of a police line that show up every year waning signs that said things like, "You Can Be Saved!!!"
And we were out in force. The queer mail carriers marched, so did the LGBT university employees, and the brigade of lesbians that puts out fires in my neighborhood boogied on their big red engine. Pictures in all the local papers.
That's different from the Bangkok Gay Festival. It's not a Pride Festival, mid you - just a gay festival. First of all, that took place under cover of night, and mostly behind the doors of the clubs on Patpong Sois 2 and 4. And the events that took place outside were small and business-oriented.
The Bangkok parade had a few floats and walking groups, and most of those were sponsored by bars. Pride in San Diego, on the other hand, had that mix of the personal and the political that has characterised the American queer community for the last several years. "I am who I am and I'm not ashamed of it," says Jay, an American gay man.
"If I don't show people the way I am, they won't ever learn" that being queer is a good thing. For many gay Americans - and for many queers who live in America - coming out is, at least to some extent, a moral imperative.
So, what do you do if you're from a place where staking out your political turf usually takes a back seat to going with the flow? What do you do if your parents expect you to get married and have kids, and that's important?
Coming out is always difficult, but coming out in the Asian-American context is especially difficult. When I was living in Bangkok, I met lots of homosexuals who were comfortable with their depoliticised status. They knew they were gay, their friends knew - at least some of them - and if anybody else wanted to know, well, they should mind their own business. In Thailand, PRIDE in capital letters isn't something that most folks felt about being queer. It isn't SHAME, either, because homosexuality isn't bad, it's just strange. But putting oneself forward as a defiant example of political behavior could be a cause for shame.
One straight friend of mine told me with some puzzlement that whenever Thai parents sent their sons to study in England, they always came back gay. She knew I'd lived in England, and she wanted to know - what is it about that island that changed people's sexual orientations? She just couldn't figure out what it was about England that was turning all these boys queer, but it must be something. The explanation seems pretty clear to me, at least: they were gay before they went.
---
In England, they decided to adopt a political stance about their sexuality, and let people know. And when they went home, they took the attitude with them.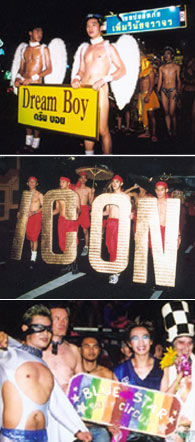 Boys from go-go bars Dream Boy and Blue Star Sexy Circus, and nightclub Icon at the Bangkok Gay Festival parade last year
Across a crowded Bangkok dance floor a hunky Thai-Chinese guy caught my eye. He had a chest that wouldn't quit, a slightly crooked smile, and -even better - he spoke perfect American, a trick he'd picked up in 10 years living in the US. He'd gone to high school and college here, and he'd come out in the US, and decided to come out in Thailand, too. He told his parents he was gay, and also that he'd converted to Christianity.
On our first date, he had to go home early. He had to get up early in the morning, to go with his parents to visit his ancestors' graves.
"But you're a Christian!" I said.
Yes, Ton explained, but his parents didn't understand that that precluded him from making offerings for his relatives, burning the paper images of things they might want, and he didn't want to disabuse them of that. He liked spending time with his parents, and being part of the great traditions of his forefathers and -mothers.
It's the same thing with his homosexuality. They knew he was gay. In a sense. They knew he liked men. But they didn't exactly understand, he said, that men can actually have sex. "They think I'm - what's that word? - yearning."
So this is his compromise: he's said the words, taken his stand in the American fashion, but he holds back information about his private life.
This seemed to characterise the entirety of our short relationship. As the days passed what he said felt emptier and emptier, and he just sort of faded out of my world and back onto the private planet of his own. I think he dealt with me the same way he dealt with his parents - he talked the talk, but when it came time to walk the walk, somehow there wasn't anybody there to do it.
And then there is A. He's passionate, emotional, quick to feel and his emotions crash back at you when they're pushed. He didn't choose to come out to his parents. Like Ton, he came to study here in the US. After he finished his BA, his parents noticed that he was spending too much time with one of his guy-friends. So they sent him away to get more education - in San Francisco. (Well, not everybody in provincial Thailand knows what goes on in San Francisco.)
He stayed with his uncle, and got letters every day from his lover. Eventually the uncle got curious, opened an envelope, and outed A to his parents on his 24th birthday.
I've known A for about a year, and in that time it's become clear to me that he would do anything to make his parents happy. He has nursed his father through his illnesses. His desire to be close to his parents hasn't abated over time, although he needs to live in Bangkok, far from his home province. When he was young, he would follow his parents around all day, even doing work, just to be near them. "I still wanted to sit next to my mom, and look at my mom, what she was doing." The love for his parents stayed as he grew, but so did his lust for men.
---
He was willing to pretend he wasn't gay for his parents' sake, but when he came out of the closet, there was no going back: he had to deal with his parents disappointment and confusion. And he dealt with it straight-on. A is disappointed that he hasn't made his parents proud. It's not easy, being himself, being comfortable as a gay man and a good Thai-Chinese son. It's been the better part of a decade since he was outed, and things have leveled off. They're all used to it now. His job is not to rock the boat; he knows how far he can go.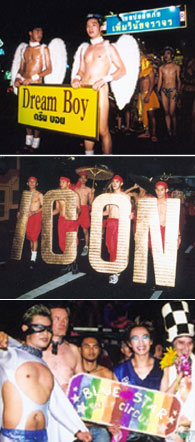 Boys from go-go bars Dream Boy and Blue Star Sexy Circus, and nightclub Icon at the Bangkok Gay Festival parade last year
He's still gay, and still a good son, but maybe not as good as they once thought he was. But now, at least, he can talk with his mom about boy troubles. A has resolved his own conflict between the politics of being gay and the demands of his culture. He stays within his culture at home, but his culture also gives him a space of his own in which to be gay.
That's a little bit harder for people who identify both as Asian and as American, because for many Americans, the personal is political, and making a space to have two different identities doesn't sit well.
"For my parents," writes Angela Cheng, "my homosexuality negates my Chinese identity. When I came out to my mother, the first words uttered out of her mouth were, 'Well, then, you are not Chinese.'" Cheng, a columnist for the
Texas Triangle
, identifies as Chinese-American and as lesbian, and in her mind, and her parents' minds, these two come into direct conflict. "Once a week, I freak out and think that I'm losing my Chinese personality by being disloyal to my family."
Still, she has found ways to deal the problem. She tries to bring the two halves of her life together - she practices the idea that being Chinese and being lesbian can go together. She'll bring her Caucasian girlfriend home for Chinese New Year. She'll share her cultural heritage, the things that make her feel Chinese, with the people who help her to be sexual.
And that's not an easy task. Angela Cheng appears to have a great deal of energy and conviction - and faith in the idea that she will not live her life in hiding.
It seems that she has the personal resources to bring her worlds together - unlike quiet, remote Ton, who manages his own world in a way so private that no one - neither his parents nor his lovers - can find their way in.
Coming out is not an easy thing to do on either side of the Pacific. But there are different roads to achieve the aim of being queer and being Asian: head-on confrontation, quiet avoidance, and compromise somewhere in between. There is one thing that these three queer Asians have in common. They all decided to make a statement about themselves and their sexualities to the people they care about. How much PRIDE they bring in to the equation is variable, the extent of their political assertiveness. At least they've all found ways of accommodating themselves to the demands of the two cultures they straddle. "I'm just trying to be happy," says A. It may not be possible for him to be completely happy, but at least he's found a path.