I am a Caucasian Irishman by birth. For the past five years I have been a "rice queen"- a lover of Asian men, in particular Chinese men, although on and off for a couple of years I did savor the delights of fragrant Thai rice with a body-builder from Laos in my mid-twenties.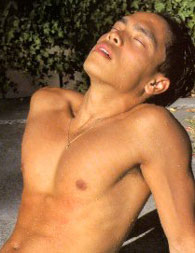 After I moved to live in Taiwan more than four years ago, I learned that the equivalent term for an Asian man who loves white guys is a "potato queen".
Whether you like potatoes or rice, the mixture of the two in a relationship can prove rather heavy for the system to digest. But not impossible.
My first Asian romance started on a business trip at the beginning of 1996. I was impressed by the warmth and passion of the men I met in Taiwan. Unknown to me, my 18-month relationship with a white guy in England was nearing a painful end, but I remained faithful to the louse and did not sleep with anyone while I was in Taiwan.
I did meet one incredibly charming and romantic young man who said he was coming to study in the UK and asked for my advice. A corny pick-up line, you might think, but after a year-long correspondence by e-mail, we finally got together over a year later back in Taipei.
Over the next six months we caught the odd week together when I was in Asia on trips, and then he came to study English for two months over the summer. In September, I moved to Taiwan to be with him. The decision was simple: I could work in Taiwan and get a visa, he could not do so in the UK.
Did it work? No. Within three months he had turned into his mother, nagging constantly and finding fault with everything, so I dumped him. I was a victim of starry-eyed romance. The idea that you can know someone you see for a few days every two months is foolish at best, and believing you can move to the other side of the world and make it work is plain foolhardy.
I have come to learn that long distance relationships can only work once a couple has been together for many years and has a firm foundation of trust. A long-term separation due to work or family commitments is much easier to bear for an established couple.
On the other hand, I, like many partners from one culture who move to another for their partner, suffered from extreme isolation. I was working long hours, knew very few people and did not know the local language. There are many foreigners who live in Taiwan for years without ever fitting in, but they have built up their own world within a world that almost denies the existence of the country they are living in. It is a skill I have never mastered and it depends on very tolerant and Western-friendly lovers who speak English well.
Having a gift for languages, I enrolled on a Mandarin course as soon as I arrived in Taiwan. I made quick progress and found myself able to hold a conversation after a few months.
---
Sociolinguists have discovered that if two people from different language backgrounds meet and form a relationship, the language they spoke on the first date is the one they will speak together in their relationship.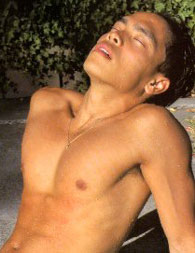 My next relationship was conducted in Mandarin. The pendulum had swung the other way: I had almost exclusively Chinese social contacts; I watched Chinese TV, ate only Chinese food and avoided other foreigners.
While my lover appreciated my efforts, I think he would have preferred me to be a little more Western, to give him more face. Face is such a difficult concept for the non-Chinese to understand, but if you make your lover lose face in public, your relationship is doomed. He may forgive you once or twice, but his resentment will grow like a tumor until it strangles the final vestiges of life from your moribund marriage.
If you want to keep your Asian boyfriend, give him face at every opportunity you can, and learn the ways you can do it without losing your own.
So what have I learnt in five years of living with Chinese men? Long distance relationships with no firm foundation won't work. Moving to Taiwan for my ex-lover without really knowing him didn't work.
Isolation in a new country puts too much pressure on the foreigner and therefore on the relationship: it's going to snap within the first year.
If the process of assimilation goes too far: the foreigner will eventually try to reclaim some of his identity and will inevitably resent his lover for making him lose his identity, even if was the foreigner's own choice.
So don't make any assumptions about your role in the relationship: sexually you might be a top, but in the relationship you will be a bottom, wedged well under his thumb.
His friends will never be yours: no matter how nice they are as long as you are together, they will turn on you as soon as you split up, hissing viciously about how all foreigners are the same even if your lover did the dirty.
Learn to be a mind reader: if there's something wrong, it will probably be your fault, and you'll have to work out why. And always give him face.
I have recently started a new relationship with a fairly westernized Taiwanese guy who speaks perfect English, but who is willing to talk Chinese with me when I want to practice. Sexually, he is as horny as I am and doesn't complain that I want sex too often.
Intellectually, we are well matched, have similar interests and studied the same subjects at college. He has fire in his character - quick to get angry and just as quick to cool down - but it is a passionate fire that excites me. He makes the same sweeping statements about white guys that my group of foreign friends makes about the Taiwanese, and he is sarcastic.
In the parsed words of that scary diva, Grace Jones: it may not be perfect, but it's perfect for me.