Beatrice Chia in the flesh is not only a coolly sophisticated beauty, but fiercely intelligent, articulate, and passionate about her craft. The new Associate Director of Toy Factory Theatre Ensemble in Singapore, she now partners respected Artistic Director Goh Boon Teck.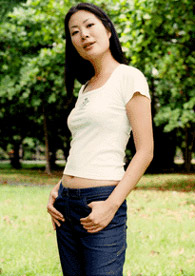 The beautiful, intelligent and articulate Beatrice Chia
Chia is the director of the warm and upbeat
Beautiful Thing
, her second stint as director after last year's controversial
Shopping and F***ing
.
An accomplished actor who has worked in theatre, TV and film (her latest film outing was the locally produced
A Sharp Pencil
), here she talks to Venessa Lee about her latest play, her love of theatre and hide-and-seek.
æ:
One of the publicity taglines for
Beautiful Thing
reads "not just another gay play". Do you think
Beautiful Thing
breaks any new ground in Singapore theatre in terms of its portrayal of gay themes?
Beatrice: A lot of so-called gay plays in Singapore theatre have been tragic, angry, angsty - recounting a sorrowful experience. (Goh) Boon Teck and I wanted a play which was lighter in tone, more fun, a feel-good experience.
æ:
For
Beautiful Thing
, Goh Boon Teck directed the Mandarin version to your English one. What was it about this play that made you feel that it should be a bilingual, albeit separate, production?
Beatrice: Boon Teck felt that he didn't want to start the year for Toy Factory with an angry, grievous play and I agreed. The world needs love and joy, especially in times like these. We felt that the Mandarin-speaking audience would enjoy this play as well, so Boon Teck translated and adapted Jonathan Harvey's original, transplanting the play into a Singaporean context.
æ:
Does Toy Factory have any plans for other such bilingual productions in the near future?
Beatrice: Well, not every play would work in this way.
Beautiful Thing
is a first for Toy Factory. It was an impromptu decision anyway, and if the opportunity arises again, and the material is right, we would certainly consider it. We felt that it was necessary to translate the play because Chinese theatre in Singapore hasn't seen anything like this before. Translation should always stem from some sort of necessity.
For the English version, I did not adapt the play because I did not want to localise it. I didn't want Ah Lian/Ah Beng, Phua Chu Kang-style references. It would have been a very different animal if it were localised, and it would then lose its original essence. What I did do was to neutralise the vernacular of the play, which was very South London, very Cockney.
If an audience can't identify with a play, they will feel alienated from it. Which was why Boon Teck adapted the context to a Singaporean one in the Chinese play. This made it much more accessible to its audience, for example with its references to Bukit Merah, Katong, local TV programmes etc.
---
æ:
What were your most memorable experiences directing
Beautiful Thing
?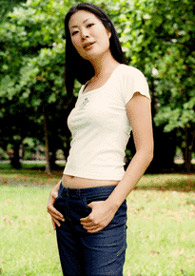 The beautiful, intelligent and articulate Beatrice Chia
Beatrice: On the first day of rehearsal, all my actors turned up with all their lines memorised! It was shocking. They were so committed! Also, during one of our improvisation sessions, I asked them to think and act like children. The 20-something cast turned out to be really good at hide-and-seek!
æ:
Are you enjoying yourself as associate Artistic Director at Toy Factory? What are your plans for 2002?
Beatrice: Yes, very much. It's a lot of work, however, and it's very full-time at the moment. At the end of the month, I will be representing Toy Factory at the International Arts Conference in Adelaide. I will be assisting Boon Teck in directing
The Cherry Orchard
for the Arts Fest in June, and will act in it as well. In August I will be directing
Fireface
.
I am still doing some TV work with Arts Central; I host a weekly show, Art Asian. I will be working on
Wonder Woman
with The Necessary Stage at the end of the year, and am also working with Alfian (Sa'at) on a double bill for next year.
æ:
What do you think of the Singapore theatre scene at the present time?
Beatrice: I think that Singapore theatre is very vibrant and exciting. It is also very forgiving, which is important because if we say to our young actors that what they are doing is shit, that is so discouraging in the context of a growing drama scene like ours.
I think Singapore theatre has taken much more than the first few steps to establishing itself and its identity. This goes for audiences as well. Their theatrical stomachs have grown stronger, which could be seen in the good reception to
Shopping and F***ing
, which was a provocative play.
æ:
With a huge arts complex like the Esplanade: Theatres On the Bay coming up in October 2002 and groups like the National Arts Council pouring money into the arts, what do you think is the future for Singapore theatre?
Beatrice: The Esplanade is certainly a monster/monolith, and the fact that such infrastructure is in place in Singapore might be taken as a sign of encouragement.
However, there are of course other important factors. Actors are still at present miserably paid. Very talented people are sometimes compelled to give it up because they are totally unable to survive as actors. They take up full-time jobs, for instance, and do theatre in their spare time.
However, Singapore theatre would invariably suffer from this kind of part-time mentality. Good things can't come out of this, we cannot afford to think episodically, we must look at the whole journey. The media also has its part to play.
If they beat the drums a lot, encouraging the scene, writing about it in a supportive way, Singapore theatre will develop. Of course, essentially, theatre groups still have to come up with good programmes.