A year into its launch and almost 8 million visitors later, Fridae.com, Asia's leading gay and lesbian Internet portal has successfully built a highly recognisable gay brand in the Asian region and beyond.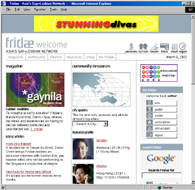 When first launched, Hong Kong based Fridae.com was the principal sponsor and official portal of the Sydney Gay and Lesbian Mardi Gras 2001, sharing the grandstand with the likes of Telstra and Qantas Airways.
To date, Fridae.com, which boasts over 100,000 visitors and 1.2 million page views a month, is easily the largest English language gay and lesbian portal in the region.
Key features of the portal include a 'Magazine' section which is updated daily with relevant news concerning the community and an extremely popular 'Personals' section, which showcases pioneering technology allowing users to send replies using SMS, and also real-time chat, all of which were developed in-house. The 'fotos@fridae' section hosts an extensive archive of pictures from parties and events in the region, with exclusive coverage of Asian gays and lesbians at the recently concluded Sydney Gay and Lesbian Mardi Gras 2002 being the latest update. Other popular features include online 'Forums', 'Shout!' (a regional calendar of events updated by users), and 'iso ads', Fridae's classifieds section.
Fridae is serving the gay and lesbian niche community in the best way it can, by delivering quality products and services tailored specifically for the community's needs. In this era of suffocating dotcoms and a floundering economy, it is companies that succeed in meeting the specific needs of their target markets well that will survive, said Dr. Stuart Koe, COO of Fridae.
Fridae?s main offline activity has been organizing a series of parties in Bangkok, Kuala Lumpur and Singapore, with ?Nation? being the largest party to date. Nation, the annual rave event held on the eve of National Day in Singapore, garnered such broad coverage by the international media last year and was so hugely successful that this year?s rave promises to be bigger and wilder.
Fridae will celebrate its 1st anniversary on 9 Mar with The Black Party to be held at Dbl 0 in Singapore, featuring guest DJ Jojo, who produces the extremely popular Frisky parties in Sydney.