A 22-year-old male Singapore student has made the headlines of a local tabloid after an anonymous email including lewd pictures has been sent to his school principal alleging that the student posed nude in a gay magazine.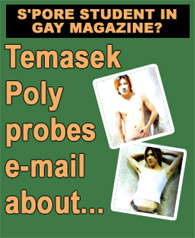 The front page of the April 5, 2002 edition of The (Singapore) New Paper
According to
The New Paper
report, Rick Ang firmly denied being in the infamous
Oriental Guys
(OG) magazine, which is in fact banned in Singapore, and had initially laughed it off when he first received the email two weeks ago.
Ang told the paper that he is being defamed deliberately would be seeking legal advice and may file a police report if required.
"Yes, I am a model and I have been pictured before, but never in the nude and never for any gay magazine. This is certainly someone trying to sabotage me. I am a victim," he told the paper in a phone interview.
The email, which contained attachments of the nude pictures, was sent to the New Paper, his school and friends not only named Ang as the model in the popular gay magazine but also called for stern disciplinary action to be taken. The sender added that the pictures caused "embarrassment to the school, the country and its education system."
Since receiving the email on Tuesday, Temasek Polytechnic has convened a board of inquiry to investigate the matter.
---
"On our part, we are very concerned for the boy and we will conduct an investigation into the complaint taking into account the best interest of the student," the polytechnic said in a statement to the paper.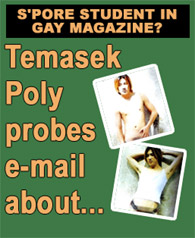 The front page of the April 5, 2002 edition of The (Singapore) New Paper
The polytechnic said that it has not taken any action against final-year engineering student while investigations are underway.
The report did however highlight a clause the polytechnic's Student Disciplinary Guidelines, which states that "creating nuisance or bringing disrepute to TP" was not acceptable. The statement added: "disciplinary action would depend on the nature and seriousness of the offence."
The report also revealed that a model agency, which Rick had previously worked for, is currently seeking "legal action against him for breach of contract" and refused to go into details.
Ang has however not heard from his former agency's lawyers. He said he would fully cooperate with the board while preparing for his final examinations, which start in two weeks.
It is uncertain what the polytechnic can do if Ang maintains his denial. What's more questionable are the motives of the whistle blower.
In a similar case some six years ago, a Singapore University medical student who allegedly posed nude in the same magazine left for the US to complete his education after being the subject of several reports and debates in the media.