Gay director Stanley Kwan's movie, Lan Yu, about the tortured romance between a male student prostitute and an older businessman, has been denied a commercial run in Singapore cinemas.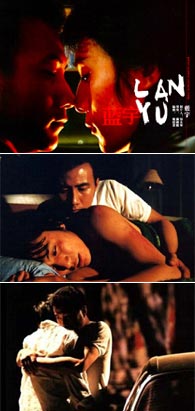 Lan Yu, one of the few Chinese films ever to tackle a gay theme
The (Singapore) Board of Film Censors reportedly sent the movie's distributors a letter on Monday saying that the film has been banned under current guidelines.
The movie's distributors had hoped to screen the movie, which won five Golden Horse Awards last year in Taiwan, in cinemas from Friday after the two screenings at the Singapore International Film Festival tomorrow.
An insider who declined to named told
Fridae
that the censorship board had rejected the distributors' offer to censor any objectionable scenes although the film will be screened without cuts during the film festival.
The source added that allowing public screenings of the movie would be "undermining the Singapore government's effort of promoting family values."