Find a seat and listen up.

Welcome to Fetishism 101.

Plastic, boots, bondage, hankies - take good notes; after class we'll be going to the leather lab.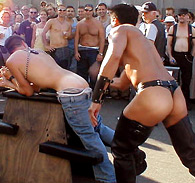 What is a fetish? How do you know if you have one? At its most basic level, a fetish is just a sexual interest in a particular thing - a part of the body, a piece of clothing, an attitude. Some fetishes get labeled "extreme," if you'd like being wrapped up and immobilized in duct-tape, for example, but most of us have more than one fetish of the more mundane sort. Did you pick up your boyfriend because you liked his hat? Would he be all the sexier if he shaved his chest, or gained a little weight?
"I really like men," says Nate, who's been down the road with a number of different fetishes. "I like the concept of MAN." That is, masculinity turns Nate on. There are certain qualities that typify masculinity, and there are certain objects that represent those qualities. Nate likes boots. He likes the way they feel, he likes the way they look, he especially likes the way you look if you're wearing them.
Nate didn't always know he had a boot fetish - but he did know he liked boots. He started exploring boots in college. He went to the library, looked through catalogues. It wasn't until he read an article in
The Advocate
that he put it all together. This was a decade ago, before the Internet hit and everybody discovered everyone elses' secret desires.
Over the years he's been moving through the fetish communities (Nate is also into leather and body hair). Now, of course, you can hit any site you like, and find all sorts of people interested in whatever you're into.
Nate calls leather a gateway fetish, the "key to kinkiness." Leather pants, leather halters, spiked collars. The collars are mostly for show - spikes are for people who like to dominate, rings that you can clip a leash on generally indicate a submissive attitude. But it's not just about attitude and concept. It's about sensuality for other senses come into play as well.
Leather vs. latex: leather is heavy, latex is light. Leather is loose, latex is tight. Each has its own smell, feel, sound, taste, and attitude - although the attitude is up for grabs. It depends on who's on the inside and who's on the outside.
---
Lots of equipment is made specially to alter your senses. You can get a hood that covers your eyes, closes your ears, plugs your mouth, or all of the above.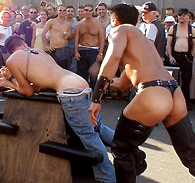 Jane, the nice lady who works at my neighborhood sex shop, says that when people come in, they usually know exactly what they want. They're not usually looking for any old sadism-and-masochism toy. They'll come in looking for a special kind of flog, or handcuffs, or restraints. The point with S & M toys is not to injure - it's to hurt. Most of the restraints available at the store are very comfy. I especially liked the one with rabbit-fur lining the wrist loops.
There are a wide variety of things you can buy to hit other people with, or be hit by: on the light side, there are mini-flogs with the consistence and color of a latex Koosh ball. There are foxtail flogs, satin, rope, leather, bamboo, and bull whips. But bull whips are tough to use.
One man bought his whip four or five months ago, and he hasn't yet used it on a person - it's too dangerous. He needs to know how to do it first. He's practising, learning to whip pieces of paper at the same place every time place with the right pressure.
For most folks, S & M is about the connection between pleasure and pain, not about damage. It can be like a magnification of what happens when you eat very spicy food, Jane says: it hurts, so your brain releases pain-killers, and it's agony and ecstasy at the same time.
At a recent flogging demonstration at a local leather bar, a volunteer stood with his face to the wall, his hands lashed above his head. The flogger stood behind him and hit him gently with a small leather flog, several dozen tails about a foot long lashing across his back. There were no moans, no cries, no communication of any kind - the guy just stood silent and enjoyed the sensations in his own private world.
Lots of fetishes are about power, but don't be fooled - it's not the person on top who holds all the power. It's the person on the bottom who makes the decisions about what's hard enough and when it becomes too hard.
---
Usually, the sadist wants to hurt but doesn't want to harm, and this means that she has to pay very close attention and know what she's doing if she wants to play with the same partner again. Negotiating the power relationships effectively is one of the most important skills a person into S & M must learn.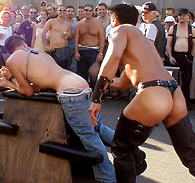 Then there are the profession fetishes. Cowboys, firemen, soldiers, Internet journalists (I can dream, can't I?) etc. I once dated a guy who learned everything he knew about sex from military porn videos with titles like "Polishing the Brass."
It's not just kids who like to play doctor: there are people with fetishes about cutting and probing, and experiencing the power that doctors have over their patients. And there's so much more: infantilism (that would be for adults who like to play like babies), piercing and tattoos, feet, immobilization, and so on and so on.
But how does one identify the right person? This is the source of the much-mythologized hankie code. (They work in the back pockets, by the way, folks, not the breast pocket.) They're for those among us who are interested in various things - fisting, rimming, dildos, spanking - but don't feel comfortable asking strangers about it.
Left side is generally accepted to mean dominant, right side passive - but just what each shade is supposed to mean is up in the air. Not only that, there are so many permutations of so many colors, it could very well get confusing.
Whatever the signs are, the good thing is that fetishes are becoming increasingly more mainstream. Nate says that time and time again, he has come across people who were amazed and surprised to find that there were other people who shared their interests. This is the wonder of the Internet, and of leather bars and dungeon clubs everywhere: they allow people to find the things that turn them on. You name it, somebody's into it.
So that's your introduction to fetishism.
Remember it's about power, ideas, and sensuality.
Got that?
Good.
Now bend over.
You need a good spanking.