On November 30th, leading into World AIDS Day 2002 on December 1st, the 3D Project will host '3D' - a Diva and DJ filled Mega Dance Party on Sentosa Island; with the aim of raising S$250,000 for Action for AIDS, Singapore.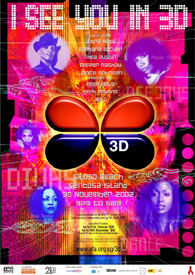 The charitable non-profit making organisation hopes the party will not only raise money for the majority of PWAs (People with AIDS) who cannot afford to pay for treatment but also to reinforce the 'message of prevention' with Singapore's young adult population and to educate them on the facts surrounding AIDS and HIV infection.
A hundred percent of every dollar raised will be donated to Action for AIDS, a voluntary community-based organisation which does not receive any government funding.
The event will feature live performances by five of the world's sassiest dance Divas, Ultra Nate, Babara Tucker, Thea Austin, Pepper Mashay, Janice Robinson and three of America's leading gay club DJs - Pete Avila (Twilo-NYC, Osmosis-San Francisco), Bert Bevans (Studio 54 - New York, Ministry of Sound - London) and Rolo (Fag Fridays, San Francisco Pride).
Six thousand partygoers are expected to attend the dance party that will make history as the first all-night fundraiser ever to be staged on Sentosa.
Organisers hope the party will bring a slice of New York's infamous club/house scene to the lion city while adding Singapore to the International calendar of events that will mark World AIDS Day around the globe.
Watch this space for more info about the DJs and divas.
Tickets are available now at all Sistic outlets and online at sistic.com.sg.
Event info
3D - Divas. DJs. Dance
Siloso Beach, Sentosa
30 Nov 2002, 9pm - 6am
Tickets: $36 (early bird price till 31 Oct)/ $46 (from 1 Nov)
Book online at www.sistic.com.sg or call 63485555