Introduction
There is a dearth of information and research on men-who-have-sex-with-men (MSM) in Singapore where homosexuality is still relatively taboo. A retrospective study on homosexual and bisexual patients attending in the Department for STD Control (DSC) Clinic in 2001, which is the only public Sexually-Transmitted Infections (STI) clinic. The study was done to provide some data on demographics and sexual behaviours of MSM.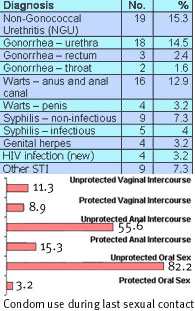 Marital Status
A total of 124 MSM were included ion the study. 119 (96%) were single, 4 were married and 1 was divorced. There were 27 male prostitutes /transvestites seen in the DSC Clinic in 2001, however they were excluded from this study.
Age Groups
The majority (54%) of MSM STI patients were between 20 and 29 age groups, another 33.9 were between 30-39 years of age.
Nationalities
99 (80%) were Singaporeans, 10 (8.1%) were Malaysians, 3 were Indian nationals, 4 were Indonesians and 8 were of other nationalities.
Ethnicities
There were 94 (75.8%) Chinese, 9 (7.3%) Malays, 12 (9.7%) Indians and 9 (7.3%) other races
Reasons For Visit
73 had symptoms of STI, 9 were sexual contacts of STI patients, 36 came for STD/HIV testing, and 6 came for other reasons (e.g. skin problems, etc)
Sexual Orientation
69% said they were homosexual and 31% reported they were bisexual.
Diagnosis
The top 3 STIs diagnosed amongst the MSM in 2001 were - Non-Gonococcal Urethritis (19), Gonococcal Urethritis (gonorrhea of the urethra) (18), Perianal/Anal canal Warts (16).
There were also 3 cases of gonococcal proctitis (gonorrhea of the rectum) and 2 cases of gonococcal pharngitis (gonorrhea of the throat).
There were 4 patients who were diagnosed to have HIV infection.
---
Condom use during last sexual contact
A significant number (55.6%) engaged in unprotected anal intercourse, this compares with 15.3% who reported using condoms for anal intercourse with their last partner.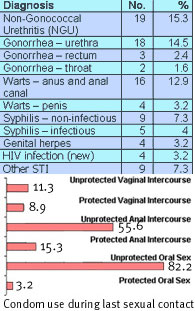 20.3% reported their last sexual partner was female, of these 55.9% reported not using a condom.
The majority (82.2%) did not use condoms for oral sex compared with only 3.2% who did.
Last sexual partner
Casual sexual partners and one-night-stands (ONS) accounted for almost half (48.4%) of the reported most recent sexual partners.
HIV Status
62 patients were HIV negative, 4 were HIV positive and 58 did not receive a HIV test during the current visit.
Recommendations
Many MSM seen in the DSC clinic still engaged in high-risk behaviour viz. unprotected anal intercourse with casual partners. Unprotected oral sex is very prevalent among this population.
MSM who do not always practice protected oral and anal intercourse are advised to have routine checkups for STI and HIV infection. Although unprotected oral sex may carry a relatively lower risk for HIV infection, other STI e.g. gonococcal and chlamydial infections of the throat are common, and most cases do not have symptoms.
Gonococcal infection of the rectum (proctitis) is found in MSM who are receptive partners of unprotected anal intercourse. Most rectal gonorrhea is also asymptomatic, and unless a proctoscopic examination is performed and tests are taken, this will not be diagnosed.
Another STI commonly found among MSM is wart virus infection of the anal canal and perianal region. Once again this can only be detected through a proctoscopic examination.
MSM should not feel embarrassed to attend the DSC clinic, the staff there are non-judgmental and gay-friendly; they are trained to assist in the routine check-ups and counseling.
For more information - visit the DSC website at - http://dsc-sexualhealth.com.sg.